This post is also available in: Italian
Reading Time:
5
minutes
Now that I'm back from the VMworld US 2015, I can point some takeaways from this trip and give my event's impression.
First to all why an European should attend at the US edition of the VMworld? Simply because this one is the real VMworld: huge, epic, a real American event! Probably too much big and too much crazy, but sometimes is nice feel and see the difference.

This trip was particularly long, as on the Saturday before the event there was a VCDX town hall meeting (sadly with an overlap with another interesting event organized directly at VMware's Palo Alto offices). Was not only an occasion to see again several other VCDX (some new for me), but also the opportunity to meet Pat Gelsinger (CEO) and a number of VMware CTOs. It was a very interactive session, mostly Q&A with questions from the attending VCDXs. I think the town hall was fun and useful, and I hope it becomes a regular part of VMworld, maybe to a place near to main event (this was at the airport, but wasn't useful for me because I was already in San Francisco on Friday). A big thanks to the organizers!
Sunday was the Partner day, but also the day of Tintricity, the first (as I know) user conference organized by Tintri and pretty interesting for the content and the presenters. During the afternoon there was a three one hour presentations at Opening Acts organized by VMUnderground and vBrownbag communitis. These were panel discussions with well known people (see here), about various topics such as storage, careers, and infrastructure. Videos are available YouTube. In the evening there was both the #VMunderground party and the Nutanix party, where I've spent part of my time.
Monday was the real VMworld start with the first  general session: strange but this was the first VMworld (since several years) without any news related to a new vSphere release… focus has shift on other products.
First to all the new Virtual SAN 6.1, with several new features and a specific solution for ROBO scenarios, VMware is pushing a lot on this product and has also announced some important features of the next beta, like deduplication and erasure coding.
Cloud strategy was also present and relevant with the cross cloud vMotion that seems so great, but honestly was exactly what I've expected with the vMotion in vSphere 6.0. Much interesting the features of SRM 6.1, that finally can "save" directly on vCloud Air (but again is an implementation of an old idea).
NSX was also present, with the new release 6.2 (where almost was already announced in the previous weeks), presented by Martin Casado.
Finally containers and the cloud native applications and also the End User Computing. This last one was probably the most strange and unexpected considering that there was also somebody from Microsoft to talk about Windows 10.
In my opinion was much more interesting (but general) the keynote of Pat Gelsinger on the second day of VMworld, with an overall vision of the technology change.

Of course there were a lot of sessions, and also some alternative sessions like the TechTalk from vBrownbag people.
An a lot of parties from different vendors and the final VMworld party directly at the AT&T Stadium.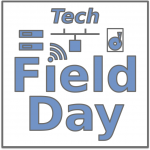 Special mention for Tech Field Day Extra (I've attend on Wednesday) and VMUG activities, with a great lunch as always (really huge compared to the one organized in Europe).
Last event day there was also the Nexenta SDx Summit event, with a lot (really a lot) of guest speakers in a talk show style.
Now will be interesting see how will be the VMworld EU 2015.
Probably the VMworld US 2016 will become a bigger event with more attention on vSphere and the core products (but probably the core of VMware is really shifting on other technologies, like NSX). And note that next year, the VMworld will not be at San Francisco, but at Las Vegas (at Mandalay Bay) from Aug, 28th to Sep, 1st 2016.
See also: