Reading Time:
3
minutes
I'm very proud and honored to be invited at the 13rd edition of Tech Field Day (#TFD13) that will be in Austin the first week of February (February 1–3, 2017). After some Virtualization Field Day, one Data Field Day and some Tech Field Day Extra, I'm back for the first time in Austin and for the first time at a Tech Field Day (TFD) event format.
The TFD event format replaced the Virtualization Field Day (VFD) event format more than one year ago (maybe because the buzzword virtualization is no more attractive). But to be honest first editions of VFD where just called Tech Field Day, so it's just a return to the origin.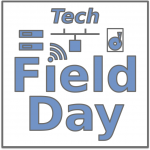 Anyway I'm very excited for this event, also because I will see again some friends (and I will also know new people, matching the Twitter handle with their faces) but also because the presenting list is very cool and interesting:
So a rich agenda and good products (where the technical level could be very deep) for a three day really intensive.
As usual, for people that are not delegates at this event, will be possible follow the event live (in video streming from the http://techfieldday.com/ site and also with twitter and hashtag #TFD13) or later with all the sessions recored and available on-line.