This post is also available in: Italian
Reading Time:
2
minutes
In the past, I've wrote about Ravello System and it's unique solution (Smart Labs) that permit self-contained capsules to run your VMware/KVM development, test, training and demo environments in the cloud without migration. Also if the company has been acquired by Oracle (my guess was that most interested in this technology was VMware itself), it remain still active and now more important.
Oracle want to push out the Next Generation of Cloud with the promise to be the Best Cloud for Enterprise and Ravello become an important piece of this vision.
As other public cloud provider there are multiple regions that serve different geographies in order to provide Disaster Recovery in case of a region failure. And inside a single region there are availability domains to provide a High Availability foundation.
Ravello will be is an overlay cloud service to take any VMware based multi-VM application and run it in any cloud without making any changes, same VMs, same networking, same storage.
The core of this technology remain the same with the HVX platform structure in main components:
Nested virtualization engine: designed to run on already virtualized hardware with a binary translation with direct execution that exposes VMware or KVM virtual devices without no changes to the VM
Overlay networking: provide distributed switch, router, DHCP, DNS and firewall services.
Overlay storage: that abstracts underlying cloud storage, provide image caching, CoW file system, Virtual CD-ROM, transparent RAID 0 for large disks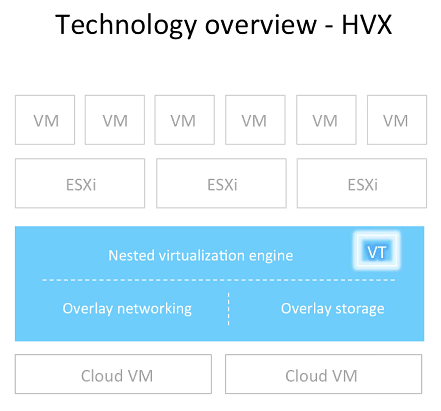 Now there are some important new announcement for this platform:
Better performance with hardware assisted nested virtualization, but also the ability soon to run on bare metal
Ravello integrates with Bare Metal Cloud: to seamlessly run your VMware, Bare Metal, PaaS workloads on Oracle Public Cloud
4X Bigger VMs: support to up 32 vCPUs 200 GB RAM to fit also some monster VMs