This post is also available in: Italian
Reading Time:
3
minutes
As announced one month ago, after the Mastering VMware vSphere 6.5 book I was working on a new book project, still based on vSphere 6.5, but this time focused on the VCP6.5-DCV exam.
Still, with Packt, the title of the new book is: Data Center Virtualization Certification: VCP6.5-DCV Exam Guide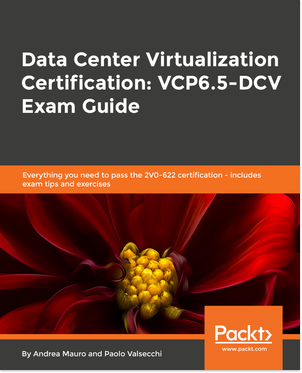 Like in the previous project, there will be also Paolo Valsecchi as a co-author. Karel Novak is the technical reviewer.
ISBN 13: 9781789340471
Size: 598 pages
This book will teach you about automating administration tasks and enhancing your environments capabilities. To begin with, you will be introduced to all the aspects related to security, networking, and storage in vSphere 6.5. Next, you will learn about resource management and understand how to backup and restore a vSphere 6.5 infrastructure. In the third part, you will cover the aspects related to troubleshooting, deployment, availability and virtual machine management. Towards the end, you will come across two Mock Tests that will test your knowledge. It tries to cover all the topics from the scope of the exam and challenges your understanding of the topics. By the end of this book, you will not only learn about virtualization and its techniques but will also be useful for the preparation at the VCP6.5-DCV certification in order to pass the 2V0-622 exam.
The book it's finally out on Packt site both in the ebook and printed format:
eBook: € 26.47
eBook+Print: € 38.99
Stay tuned on Packt website because, at least for the eBook, they usually make interesting offers and deals.
It's also available on Amazon web site, but actually limited at the only eBook format (in the next weeks will be available also in the printed format):
[amazon_link asins='B07FDCYYYS' template='ProductCarousel' store='vinfrastructu-20′ marketplace='US' link_id='267bbbb2-adbc-11e8-ad27-837ce3f203f1′]
What you will learn from this book?
Deploy and configure a vSphere infrastructure
Create and administer vSphere virtual machines
Optimize, secure, and troubleshoot all components of the implementation
Implement vSphere HA on a vSAN cluster
Learn to backup and restore a vSphere 6.5 infrastructure
Explore example questions to understand the key concepts required for the certification exam
What next? Two books in 12 months are too much, so I will stop.
But if this book will perform well, I think that could be possible a new release on the new VCP-DCV 2019 certification, when it will be available.