This post is also available in: Italian
Reading Time:
4
minutes
As you probably know, VMware NSX-T Data Center is the network product that provides scalable network virtualization and micro-segmentation platform for multi-hypervisor environments, container deployments, and native workloads.
Under this umbrella, there are two main products: NSX-v and NSX-T.
NSX-v is bound to VMware vSphere environment, because the NSX Manager is 1:1 paired with one vCenter Center and was a good solution to provide high and seamless integration in those type of environments.
But also if virtualization is highly adopted, does not mean that there is only VMware vSphere… and there are also Cloud Native Application (CNA) that can run on containers on physical servers.
For this reason was designed NSX-T, to provide better support of heterogeneous environments.
NSX-T is a mature product that provides a variety of new features for virtualized networking and security for private, public, and hybrid clouds. Highlights include a new intent-based networking user interface, context-aware firewall, guest and network introspection features, IPv6, highly-available clustered management, profile-based NSX installation for vSphere compute clusters, rebootless maintenance upgrade mode of NSX for vSphere compute, new in-place upgrade mode for vSphere compute and a migration coordinator for migrating from NSX Data Center for vSphere to NSX-T Data Center.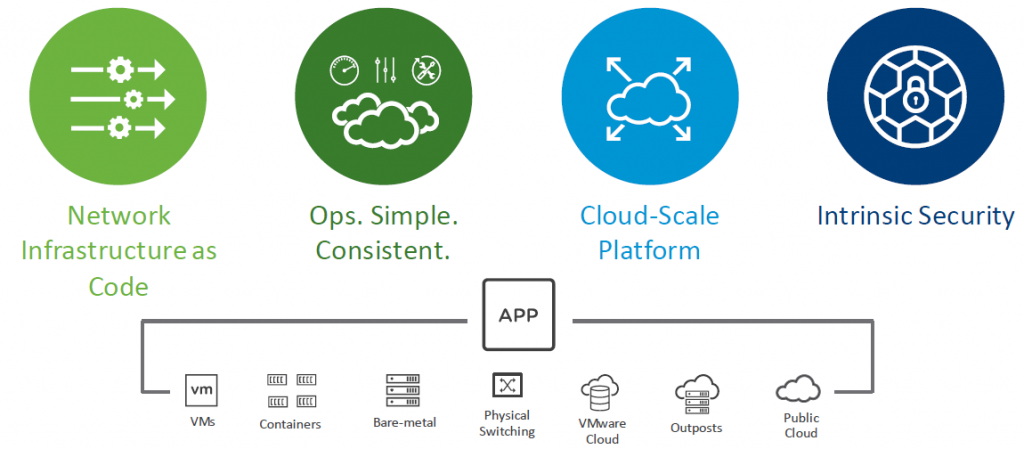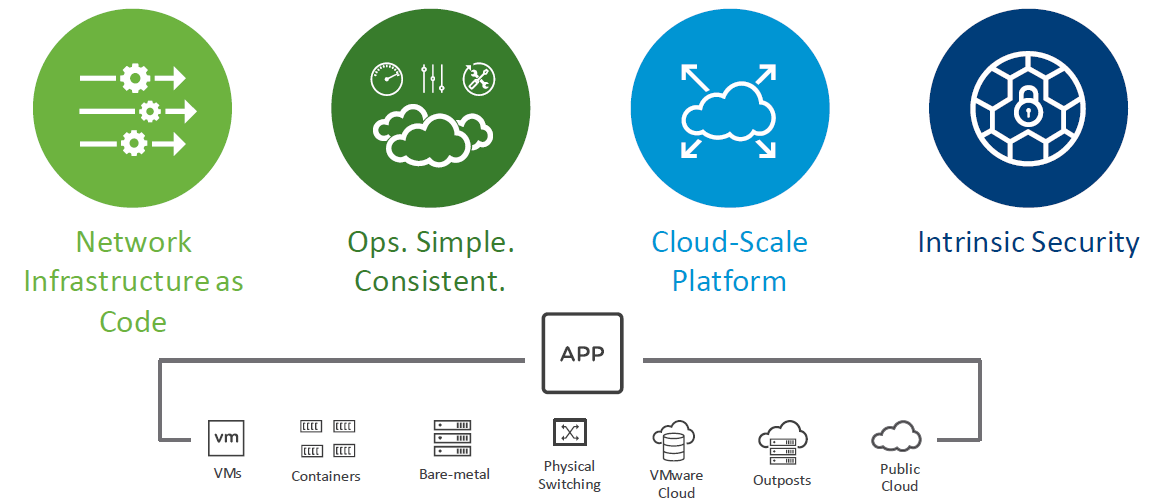 The gap between the two products is closing faster and there are also several new features and capabilities available ONLY on NSX-T. Also, NSX-T has better and more flexible architecture, including a different tunning protocol from NSX-v (GENEVE instead of VXLAN).
Also if NSX-T has not yet become features parity with NSX-v, it's becoming clear that, in the future, it will replace the NSX-v product and become the only NSX Data Center line. In fact, NSX-v is starving on the same 6.4 version with only minor patches, NSX-T is fastly growing.
Anyway, starting with NSX-T Data Center 2.4.0 there are a lot of features designed only for NSX-T and finally with NSX-T Data Center 2.5.0 we are really closed the missing features from NSX-v.
And NSX-T provide also a better and seamless integration with the cloud provider networks. Another reason to choose this product.
New deployment
In case of a new environment designed from scratch there is no reason to start it with NSX-v!
Design it with NSX-T to ensure full features and the ability to grow and improve in the future.
Same consideration if you are new to NSX… just start studing NSX-T… all the classes are updated to 2.4 versions and there are new certification exams based only on NSX-T… so invest better your time and focus on the proper knowledge.
Migration or upgrade
For to all, there are several different between NSX-v and NSX-T, not only in the features, but also in some main concepts and architectural/implementation aspects. First to all be sure to learn more about the new product.
If your have an existing NSX-v environment, instead of just update it to latest patches of NSX-v (and new version of vSphere), consider to migrate to NSX-T.
There is a migration wizard that can help you, but consider that you have also to plan some downtime during edge upgrade and maybe network reconfiguration.
If your migration is on new hardware, than could be a good opportunity to avoid an in-place migration and just build a new environment and migrate the workload and then reconfigure the network. Much more safer.
Integration with 3party
NSX-v has a lot of good integration with 3 party products and software, from the antivirus, through the firewall, load balancer and also with some physical switches.
Most of them are not ready for NSX-T and this can really limit your ability to plan an early migration between product.
Be sure to check, for all of the security product integrated with NSX-v that your are using, all the compatibility matrix and which the type of integration with NSX-T.
NSX-v EOF
Some weeks ago, VMware NSX-v 6.4 end of general support date was 16/01/2021 that was probably to close.
But now the new product lifecycle matrix shows the end of general support of NSX-v is 16/01/2022. Much better to provide time for plan a proper migration.