Reading Time:
5
minutes
The VMware ESXi partitions layout on the system disk has remained almost the same for several years.
VMware ESXi 6.x partitions layout was the same from previous 5.x versions and there ware only some exceptions with bigger disks (with two different diagnostic partitions.
Starting with ESXi 7.0 the partions layout is now totally changed.
If you install ESXi 7.0 on a very small system disk (for example 2 GB) you will notice this error from the installer: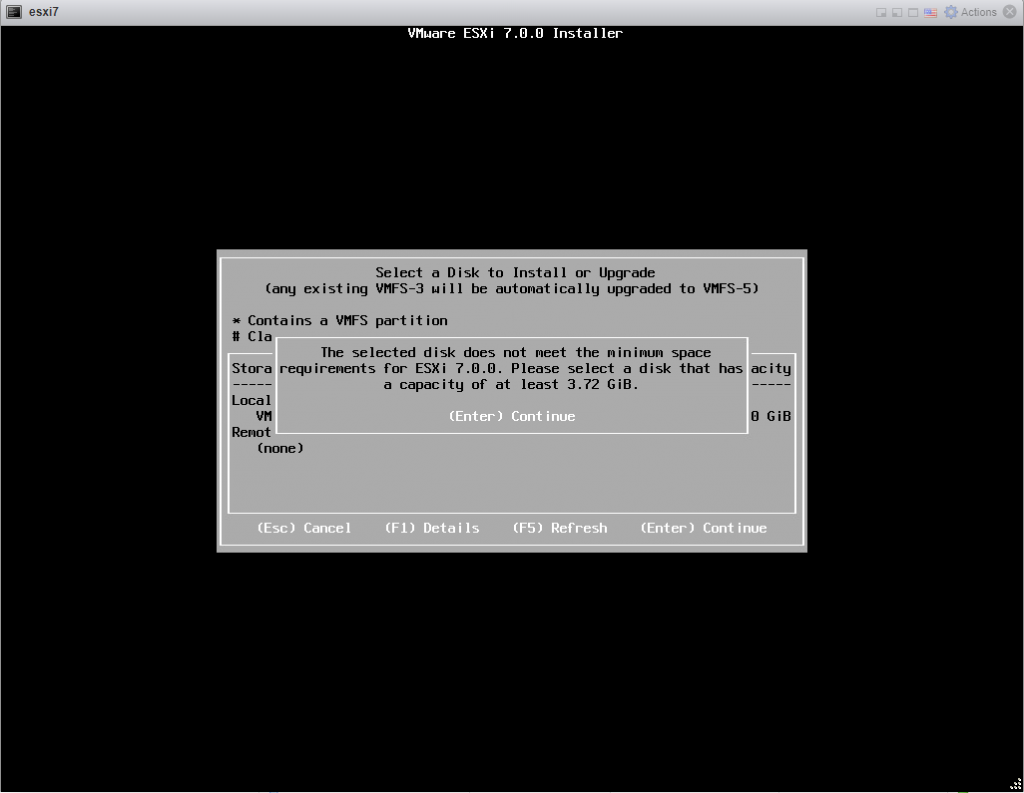 In order to install ESXi 7.0 now you need more than 3GB (at least 3.72 GB) of disk space!
A big change, considering that before was possible install ESXi with less than 1 GB!
The reason is in the new disk layout: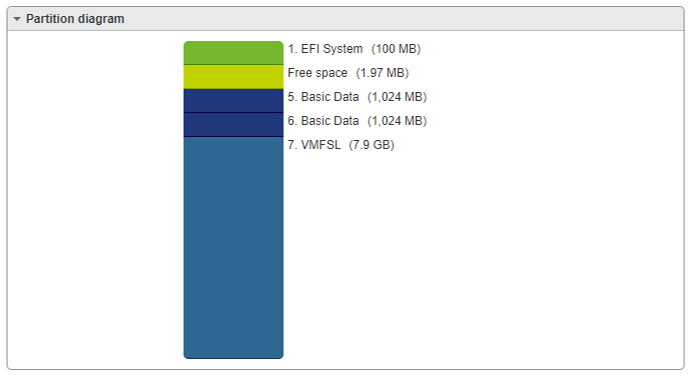 As you can notice there are now few partitions compared to previous versions and some notable changes.
The new layout has the following partions:
Partition 1: EFI System (100MB) instead of a 4 MB partition offset
Free space of 1,97MB (used during the upgrade process to don't overlap with previous bank partitions)
Partition 5: Book bank1 (1GB)
Partition 6: Boot bank2 (1GB)
Partition 7: VMFSL partition of OS data (not for VMs!)
Also the df command is now much more clean:

As you can notice the boot banks are now much more bigget (around 4x of previous size), probably to be able to host much more binaries, drivers and extensions. And there is no more the difference between bookbank and altbootbank… just two different book banks.
But where are the scratch and the store partions? Are they gone?
No, they are still present and the filesystem structure has remained the same: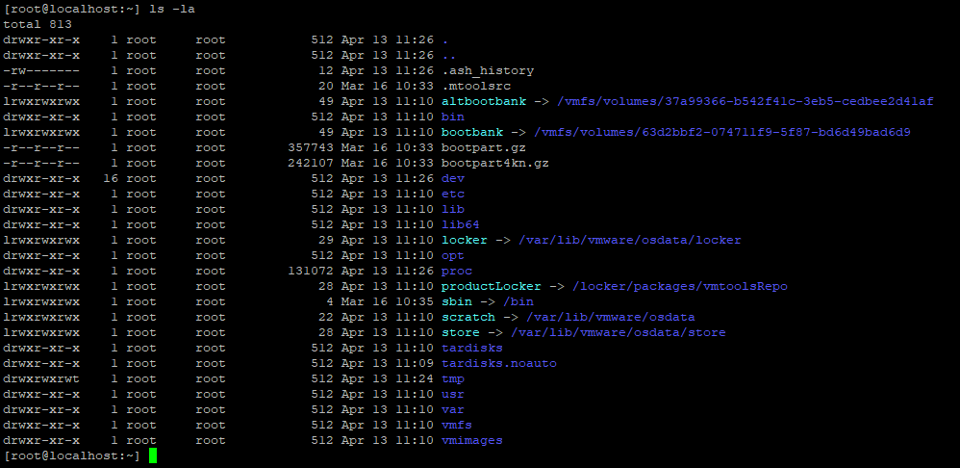 The main difference is that now the store and the scratch partitions (and also the locker directory) are now relocated in the new OS data partion that is just one bigger partition formatted with VMFS-L filesystem (do you remember the first version of vSAN and its filesystem?).
This is not a general purpose VMFS partition and cannot store any VM at all. Only ESXi system files, logs, dump, …
But what about if you install ESXi 7.0 on a small disk with the minimal required space?
The partitions layout will change to adapt the partitins to the smaller space: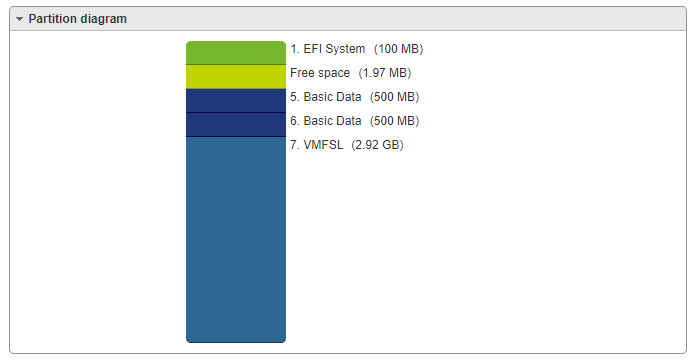 As you can notice the new boot banks size are not 500MB instead of 1 GB and of course also the VMFSL partition is now smaller.
Will this couse possible issues in future upgrade? Or just in the update process there the scratch space could be too much limited? I think that this could be a problem and for this reason could be better consider 8GB the minimum recommended space for a ESXi 7.0 installation!
In fact if you check the ESXi Hardware Requirements you can see:
Supported server platform. For a list of supported platforms, see the VMware Compatibility Guide at http://www.vmware.com/resources/compatibility.
ESXi 7.0 requires a host with at least two CPU cores.
ESXi 7.0 supports a broad range of multi-core of 64-bit x86 processors. For a complete list of supported processors, see the VMware compatibility guide at http://www.vmware.com/resources/compatibility.
ESXi 7.0 requires the NX/XD bit to be enabled for the CPU in the BIOS.
ESXi 7.0 requires a minimum of 4 GB of physical RAM. Provide at least 8 GB of RAM to run virtual machines in typical production environments.
To support 64-bit virtual machines, support for hardware virtualization (Intel VT-x or AMD RVI) must be enabled on x64 CPUs. One or more Gigabit or faster Ethernet controllers. For a list of supported network adapter models, see the VMware Compatibility Guide at http://www.vmware.com/resources/compatibility.
ESXi 7.0 requires a boot disk of at least 8 GB for USB or SD devices, and 32 GB for other device types such as HDD, SSD, or NVMe.