This post is also available in: Italian
Reading Time:
2
minutes
The core of vCenter Operations Management is a vApp with two VMs:
the UI VM with the user interfaces and some data
the analytic VM that is basically the data collect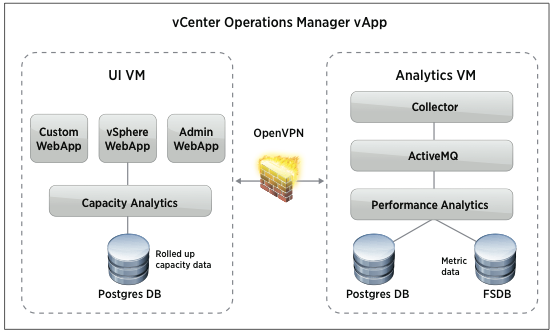 Both must stay in the same network and on the same cluster. Really curios the choice of the OpenVPN to handle communications between the VM… Maybe there is some future plan to build a multi-tenant solution? Or simple a single UI with multiple collectors?
The installation is quite simple and is basically a OVF deployment. For more info see:
There are some points that you must check during or before the installation:
Before you start the deployment you will need to create IP pools in vCenter.
Thick Provision Eager Zeroed is the recommended provisioning format. Do not use Thin in production.
When you specify an IP allocation scheme, select Fixed or DHCP IP allocation.
Note also that other suite components are different piece of software:
vCenter Infrastructure Navigator is still an appliance

vCenter Chargeback Manager is a Windows software

vCenter Configuration Manager is a little more complicated with also some external dependency (like a DB).