This post is also available in: Italian
Reading Time:
3
minutes

VMware Partner Exchange is a big event, like VMworld, but dedicated to the VMware partners (like the international Microsoft WPC or other similar events). This year will be held at Las Vegas from 25 to 28 February.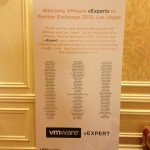 I don't know if this year there will be something special also for vExpert, but last year there were also some dedicated activities and also a sign will all the vExpert names.
There are different reasons to attend at this event (top tens are also described on the official Why Attend page):
Network with other partners, VMware experts and VMware executives and more than 90 exhibitors
Over 200 sessions focused on VMware solutions and specialized verticals
Learn how to identify and meet customer needs with the right VMware technology, how grow your business through margin and services and how to expand your customer base through new enablement and marketing offerings
Hands on Labs with 30 highly relevant lab topics (similar to VMworld HoL)!
More than 30 special VMware and Sponsor Conference Boot Camps with 60% discount on VMware Education courses at PEX Boot Camps (Feb. 23 – 26)
VMware certification exams and the new VCAP5-CID (see this post for new paths and exams) all with 50% discount
And finally because it's at Las Vegas
I've attend at the PEX 2010 (that was also in the same location) and I have to admin that is really a big and interesting event, smaller and different than a VMworld. If you are a VMworld Partner try to attend at least one time. Unfortunately there isn't nothing similar in Europe (expect events like Partner Exchange On Tour 2012).
Three years ago I've also got two big opportunities at PEX: my VCDX defense and a VPN Award for my company. So was really great and unique!
This year I will attend again to see how has changed and also be able to compare with the two recent VMworld. The registration form is available online as usual and require a VMware Partner account, then registration is completely similar to a VMworld registration.