This post is also available in: Italian
Reading Time:
6
minutes
There is a new player in the virtualization ecosystem and is called Platform9. The company is founded by early VMware engineers (with several years of experience) who have taken a fundamentally new approach to creating and managing private clouds.
As you can see from their first public blog post, Platform9 has launch a 100% Cloud Managed Platform designed to manage Docker, KVM and VMware vSphere environments. The idea is transforms an organization's existing infrastructure into an agile, self-service private cloud within minutes, offering the simplicity of AWS-like public clouds with complete ownership of all resources and data. The interesting approach is that mainly is a SaaS platform on a public cloud that can manage on-premises infrastructures (note that actually the main target is the mid-enterprise) by giving the best of both worlds: the simplicity and the flexibility of the public clouds approach with the complete ownership of all resources and data. And all is fully compatible with OpenStack APIs without the need to implement any OpenStack layer on-premises.
This product has been developed driven by the customers needs and one typical user requirement is the agility: use the IT staff as a "resources broker" is usually ineffective (unless there is already a cloud automation tool) and can imply several issues, like the ghost IT effect (users don't use the internal IT, but go directly through some public cloud offers).
I've got the opportunity to talk with Sirish Raghuram, Platform9 Co-Founder and CEO, and have more information about the product (note that will be available on Q4, at least with the KVM support, and actually there are not yet any public information about the pricing).
"We founded Platform9 because as early engineers at VMware, we observed how customers were struggling to achieve AWS-like efficiency with increasingly archaic management software," said Sirish Raghuram, co-founder and CEO of Platform9. "We believe that just like SaaS revolutionized the world of enterprise applications, it can do the same for enterprise datacenters. You can think of us as the Salesforce.com of private cloud management. Our customers come to our web site, sign up and transform their existing infrastructure into a private cloud within minutes. From there on, they can focus on using their infrastructure rather than babysitting the management software."
The idea is simple but effective: for each customer they allocate a dedicated OpenStack controller that become the management platform for the on-prem infrastructure. On each virtualization host the IT staff must add an agent that act as a glue to the external management platform and the internal environment. All communication are out-bound on HTTPS ports, so it is really simple to configure, to manage and does not require complicated VPN configurations. And it could managed directly the hosts without the need of a local management server: actually the first implementation works on KVM and can manage directly the hosts (like, for example, CentOS servers). With VMware there is the potentiality to manage directly the ESXi hosts, but actually is not clear if this will be implemented, or simple a local vCenter Server will be used.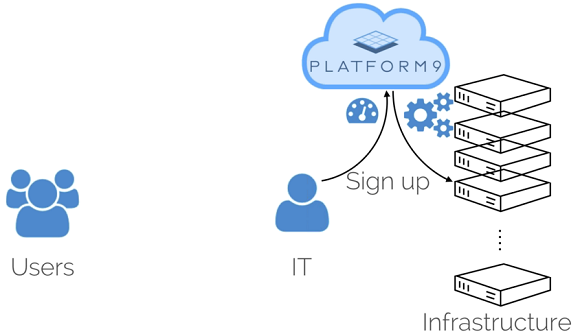 The controller is an OpenStack environment with three modules: Compute (Nova), Identity Service (Keystone) and Image Service (Glance). Networking and storage could be simple integrated with the existing environment without issue. There isn't the OpenStack dashboard component, just because the user interface will become the Platform9 interface where users can login and access to the services (where local servers become aggregate as a single pool of resources).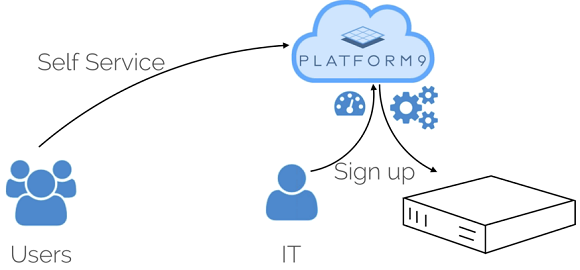 The idea of use a dedicated controller for each customer permit the maximum flexibility and a better control. Security will be provided by using encryption for the communication and also by exporting (though the agent) only the meta-data and not the data itself.
How IT Benefits
Non-Disruptive Setup and Upgrades: Administrators can import their existing servers and workloads non-disruptively within minutes. Upgrades are as easy as clicking a button in the User Interface and letting Platform9 do the rest.
Richer Visibility: Platform9 dashboards provide rich visibility and insight into an organization's private cloud, across infrastructure, workloads and users. Platform9 works across datacenters and geographies, eliminating management silos.
Automation and Policy Control: Platform9 pools together servers, storage and networking into a private cloud that can be shared by teams of users. Platform9's intelligent placement technology ensures optimal hardware utilization, enforces capacity quotas and enables administrators to express rich policies for tiered consumption of resources.
Support for Diversity: Platform9 lets administrators mix and match Docker, KVM and VMware vSphere seamlessly, enabling them to choose the best virtualization or container technologies for their applications.
How Developers Benefit
Self-Service Access: Developers get UI and API based self-service access to their private cloud. They can rapidly provision and access instances without waiting on human intervention. Developers can easily automate their build/test/release pipeline by leveraging OpenStack APIs or libraries.
Support for Collaboration: Platform9 makes collaboration between team members and across different teams easy and intuitive with native support for creation of shared environments to rapidly provision and destroy instances. This enables faster resolution of problems between development and QA teams.
Conclusions
Platform9 sounds interesting and can fill the gap between users and IT people. Actually there are already several SaaS solution for monitoring the infrastructure, but not so much for SaaS Managed Datacenter. This also explain why actually the products lacks of some features like a deep monitoring or charge-back functionality: the main focus is on the manage part.
Could be also another reason to attend at the VMworld US event: Platform9 will showcase its product in its booth #324.
Future implmentation will include:
Docker support
App awareness
VMware support
SLA Management
Also actually it only support on-prem resources, but the hybrid cloud scenario may also be considered in future implementation. Same for workflow: actually user can require resource based on policy settings (like for example quotas), but no approval step (or other type of workflow) is implemented, this in order to be give more automation and speed to gain the resources.