Questo post è disponibile anche in: Inglese
Da poche ore è presente un nuovo player nell'ecosistema della virtualizzazione: la nuova azienda si chiama Platform9 ed è stata fondata da vari ingegneri usciti da VMware (tra l'altro con vari anni di esperienza alle spalle) con l'idea di implementare un nuovo approccio alla gestione dei cloud privati.
Come è possibile leggere da primo blog post, Platform9 ha annunciato una piattaforma di gestione 100% (public) cloud oriented, con l'obiettivo di gestire ambienti con Docker, KVM o VMware vSphere. L'idea di base è ottenre gli stessi vantaggi del cloud (in particolare l'agilità e le funzionalità di self-service, utilizzando AWS come modelli di riferimento per questi aspetti) ma senza la relativa complessità (se non altro per le implementazioni di tipo private cloud). L'aspetto interessante è che di fatto rappresenta una soluzione (public) SaaS per la gestione (o meglio l'implementazione) di public cloud con l'obiettivo di gestire risorse on-premises. Questo spiega anche perché il loro target iniziale è l'azienda media (americana): le large enterprise utilizzeranno già soluzioni di private cloud (e quindi non avrebbero alcun beneficio), mentre le PMI sono più portate all'utilizzo di soluzioni direttamente su public cloud.
Questo approccio fornisce il meglio dei due mondi (public e private): semplicità e flessibilità del cloud pubblico (come ad esempio AWS) con il completo controllo delle risorse (tipico del cloud privato). Il tutto compatibile con le API di OpenStack, ma senza la relativa complessità.
Questo prodotto è nato osservando i limiti delle attuali interfacce di gestione e le esigenze degli utenti: in molti casi il reparto IT diventa un possibile collo di bottiglia, che in vari casi viene "scavalcato" attingendo direttamente risorse (non controllate e regolamentate) da soluzioni di public cloud (questo fenomeno viene chiamato "ghost IT" e già era stato commentato in un post precedente).
Ho avuto l'opportunità di parlare con Sirish Raghuram, Platform9 Co-Founder e CEO, con l'occasione di ottenere più informazioni sul prodotto (che comunque al momento è solo in beta e sarà disponibile in Q4, probabilmente solo con il supporto KVM, almeno all'inizio). La loro vision è semplice ma comunque ambiziosa.
"We founded Platform9 because as early engineers at VMware, we observed how customers were struggling to achieve AWS-like efficiency with increasingly archaic management software. We believe that just like SaaS revolutionized the world of enterprise applications, it can do the same for enterprise datacenters. You can think of us as the Salesforce.com of private cloud management. Our customers come to our web site, sign up and transform their existing infrastructure into a private cloud within minutes. From there on, they can focus on using their infrastructure rather than babysitting the management software."
L'implementazione è ancora più interessante: per ogni cliente viene istanziato un controller OpenStack dedicato che diventa l'interfaccia di gestione dell'ambiente on-prem (in modo comunque non invasivo e distruttivo). Su ogni server di virtualizzazione andrà installato il relativo agente di gestione che permetterà la comunicazione (da notare che il traffico è di tipo HTTPS in uscita, quindi molto semplice da configurare nelle regole di firewall e senza alcun requisito di VPN) con la piattaforma di gestione.
Aspetto interessante è che non c'è richiesta di alcuna piattaforma di gestione locale: l'esempio mostratomi prevedeva degli host CentOS con KVM stand-alone che venivano poi gestiti centralmente dalla soluzione Platform9 (questo tra l'altro potrebbe rivelarsi molto interessante per i provider di servizi). Con VMware potrebbe essere lo stesso: i singoli host ESXi potrebbero essere direttamente gestiti. Ma al momento non è ancora stato valutato se implementare questo livello di gestione anche per vSphere o passare semplicemente da un vCenter Server locale.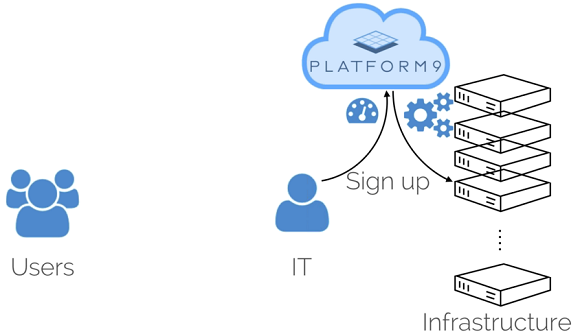 Il controller è un sistema OpenStack che implementa tre moduli: Compute (Nova), Identity Service (Keystone) e Image Service (Glance). La parte di rete e storage è invece integrata con quella del cliente, in modo da non richiederne modifiche. La dashboard ovviamente non è quella di OpenStack, ma una versione adattata da Platform9 che diventa la vera e propria interfaccia di gestione di tutti gli utenti, dove possono attingere alla risorse on-prem aggregate in un singolo pool.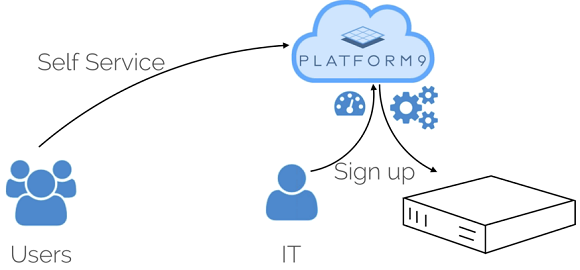 L'idea di usare un controller dedicato per ogni utente permette notevole flessibilità ed implementazione anche di scenari più complessi. Ricordiamoci sempre che il target sono le aziende mid-size, quindi ogni controller comunque avrà un numero considerevole di risorse gestite. La sicurezza è garantita sia dalle comunicazioni cifrate, sia da fatto che verso il controller sono esportati i metadati e non i dati stessi.
Ovviamente lo stesso sarebbe possibile implementando una soluzione OpenStack locale, ma con una maggiore complessità sul reparto IT sia nell'implementazione sia nella gestione dello stesso. Non ci sono notizie di un possibile supporto ad ambienti Hyper-V, ma del resto in questi casi l'Azure Pack potrebbe già essere una buona soluzione fornendo internamente un'interfaccia di gestione omogenea e coerente con quanto viene fornito sulla parte pubblica.
Platform9 è una soluzione potenzialmente interessante volta a colmare il divario tra utenti e reparto IT (almeno per quanto riguarda il provisioning delle risorse). Benché già esistano soluzioni SaaS per il monitoraggio di ambienti di virtualizzazione, effettivamente la parte di gestione era ancora limitata (usando soluzioni SaaS). Questo spiega anche perché alcune funzioni sono ancora mandanti in Platform9: il focus principale è la gestione e, ad esempio, il monitoraggio è sicuramente perfettibile o manca del tutto (almeno per ora) di funzioni di charge back).
Nella roadmap sono comunque inclusi:
Docker support
App awareness
VMware support
SLA Management
Come pure dovrebbe essere incluso uno scenario di tipo cloud ibrido: al momento può gestire solo risorse on-prem, ma non è poi così raro che aziende possano disporre di risorse locali e risorse su un cloud pubblico.