Reading Time:
4
minutes
RedHat has announced the global availability of Red Hat Storage Server 3, an open software-defined storage solution for scale out file storage designed for the biggest consumers of unstructured data in enterprises today including enterprise file sharing and collaboration, log analytics, such as Splunk, and big data, such as Hadoop.
Based on Red Hat Enterprise Linux 6 and the Open Source GlusterFS 3.6 file system, Red Hat Storage Server 3 is designed to scale to support petabytes of data without compromising on choice, cost and control. Highlights of the new capabilities of Red Hat Storage Server 3 include:
Easy integration with emerging big data analytics environments with support for a Hadoop File System Plug-In that enables running ApacheTM Hadoop workloads on the storage server, as well as tight integration with Apache Ambari for management and monitoring of Hadoop and underlying storage.
Increased choice and flexibility, including support for an increase in HCL coverage and SSD support.
Increased scale and capacity by 200% with support for up to 60 drives per server, up from 36 and 128 servers per cluster, up from 64, providing a usable capacity of up to 38 petabytes per cluster.
Increased agility with improved operational control of storage clusters:

volume snapshots (up to 256 per volume) for point-in-time copy of critical data across the storage cluster and
comprehensive monitoring of storage cluster using industry leading frameworks and standards, such as Adagios and SNMP.

SSD and flash storage support for creating storage bricks to run high performance workloads, as well as an expanded hardware compatibility list (HCL) providing a greater choice of hardware platforms.
A new packaging option that allows layered installation of the Red Hat Storage Server bits on pre-installed Red Hat Enterprise Linux Servers for rapid deployment of storage servers.
The storage architecture is a scale-out storage that could be converged or also hyper-converged, confirming this trend.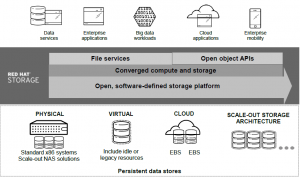 This Open & Software Defined Storage is based on GlusterFS that is mainly a distributed (and parallel) file system that aggregates various storage servers over Ethernet or Infiniband RDMA interconnect into one large parallel network file system. Over this distributed name, an XFS filesystem will be use (using FUSE) to provide a standard Linux filesystem.
The maximum number of nodes in a cluster is limited to 128 and can scale to Petabyte of storage capacity and also is possible handle availability groups in order to define specific fault domains (like single rack).
Hardware could be standard commodity hardware, based on the RHEL HCL and could be possible that some vendor will provide its complete solution. There are also interesting partnership with backup vendors (actually the first well know is CommVault) to integrate their backup solution with this kind of storage.

Red Hat Storage Server 3 complements the July 2014 delivery of Red Hat's Inktank Ceph Enterprise version 1.2. In May, 2014 (Red Hat acquired Inktank) provider of Ceph and Inktank Ceph Enterprise open source storage solutions. Red Hat's Inktank Ceph Enterprise delivers object and block storage software to enterprises deploying public or private clouds, including many early adopters of OpenStack. The addition of Red Hat's Ceph Enterprise to Red Hat's storage product portfolio gives customers comprehensive offering of open software-defined storage solutions across object, block and file system storage.