Reading Time:
2
minutes
As usually in the past years (see for example the 2014), the European VMworld is used to announce new software releases in the VMware Cloud Management Platform.
In VMware strategy, Cloud Management is the control plane for the Software-Defined Data Center and the Hybrid Cloud and, of course, is one strategical aspect for both pillars.
In the past year there is a shift from multiple products, multiple suites, to a unified platform:


VMware has realized a new suite specific for Cloud Management: vRealize Suite, a management solution purpose-built for heterogeneous datacenters and hybrid cloud.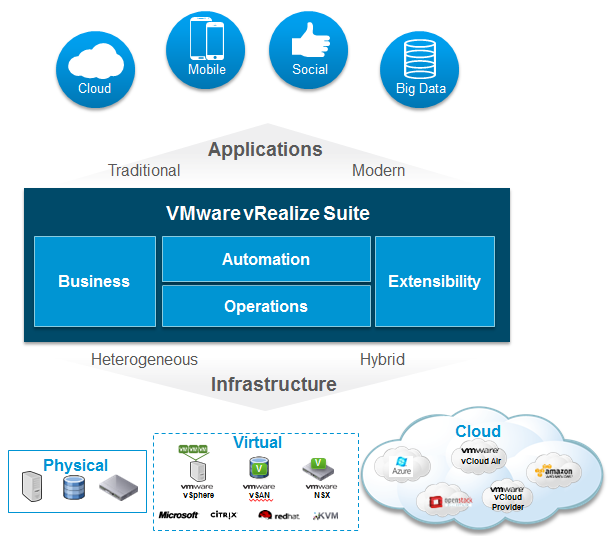 The platform has evolved from version 6.0 (with a lot of improvemenys in the Operations part) to a new suite 7.0 actually composed by:
vRealize Business 7 Standard
vRealize Automation 7
vRealize Orchestrator 7
But in the future with a more converged cloud management platform.
Finally also the proposition of some of the cloud management tools as a public cloud service are becoming possible: starting with Cloud Business Management as a Service (hosted on vCloud Air) with remote data collector and supporting vRA 6.x and vRA 7.0.0.
An finally also vRealize Automation has been improved and become more simple to deploy (with a great wizard) and easy to manage with fewer services to deploy, fewer VA's to manage, lesse external dependencies, an easy HA configuration.
Also the Orchestrator, still the core for several vRA operations, is now using a new modern UI for vRO setup, configuration, workflow monitoring, troubleshooting, and other useful information.