This post is also available in: Italian
Reading Time:
3
minutes
Seems that the vSphere Web Client has some bugs, also with the latest vSphere 6.5 version. It should be the main web client (see a list of possible GUI clients in vSphere 6.5), but sometimes does not work as expected (without considering possible Flash bugs).
If you are using vSphere vApp (a feature that requires a DRS enabled cluster), you may have some issues when you need to remove a VM outside from a vApp.
You will notice that all the VM inside a vApp will lose some features, at least in the vSphere Web Client contextual menu: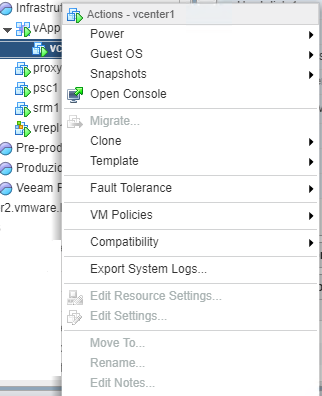 You cannot migrate, you cannot rename, you cannot move in the (host and cluster) inventory, you cannot add notes, you cannot edit VM settings! Note that you loose also all plugin actions, like vSphere Replication!
Also if you are using the drag and drop feature and you try to move a VM from the vApp to another resource pool or just in the cluster you will receive this error message:

This action is not available for any of the selected objects at this time.



It's something boring, and VMware's KB does not help. The only one that I've found was: KB 2145731 – Web Client references need to be updated to vSphere Web Client.
The KB was similar, but related to issues with permission and only for vSphere 6.0. Funny that this issue was not present in legacy vSphere Client.
When attempting to drag and drop a Virtual Machine to a different folder, or by using Move To option, you receive errors similar to: This action is not available for any of the selected objects at this time.
You do not have the required privileges for either of the objects that you want to move or for the destination objects.
In my case, it was different, and specific to the vApp, but not related on how the vApp was configured.
Don't try to delete the vApp, this operation will delete also all the VMs inside it!
I've found a nice blog post (Remove Virtual Machines from a vApp), but the solution wasn't easy and fast. Remove the VM from the inventory or move to another cluster wasn't a good option for me.
So I've just tried with the (new HTML5) vSphere Client and… surprise surprise… it works perfectly: you can drag and drop a VM and move from a vApp to another object without any issue!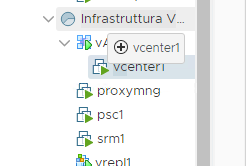 After this operation, the VM becomes fully manageable also from the vSphere Web Client!