Questo post è disponibile anche in: Inglese
Reading Time:
4
minutes
La domanda sembrerà banale, o quanto meno lo dovrebbe essere essere la risposta. Per togliere una VM da una vApp di vSphere basterebbe trascinarla fuori utilizzando il vSphere Web Client.
Ma qua nascono le sorprese: sembra che il vSphere Web Client abbia alcuni bug in vSphere 6.5 (dove dovrebbe essere il client GUI primario o almeno quello più completo, come descritto nel post relativo ai diversi client in vSphere 6.5). Purtroppo sulle vApp non si comporta come dovrebbe ed in questo caso la colpa non dovrebbe di Flash (come successo qualche mese fa con il Flash bugs).
Se state utilizzando le vSphere vApp (funzionalità che richiede un cluster DRS, e quindi vincolata solo alle edizioni Enterprise ed Enterprise Plus), avrete seri problemi a togliere le VM dalle vApp.
Si capisce che qualcosa già non funziona guardando il menu contestuale delle VM dentro una vApp… molte funzioni sono diventate in grigio (e quindi apparentemente disattivate!):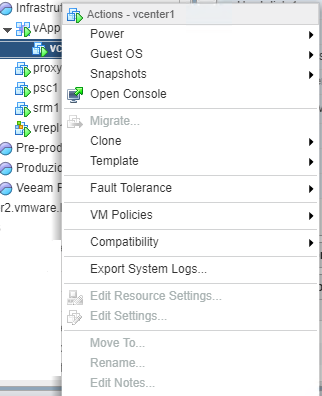 Non si più più migrare, rinominare, spostare nell'inventario (host and cluster), aggiungere note o persino editare la configurazione della VM! Almeno non dal vSphere Web Client.
Pure eventuali funzioni legate ai plugin, come ad esempio vSphere Replication, non sono più disponibili.
E se provate a trascinare la VM fuori dalla vApp, il client vi risponderà con questo messaggio di errore::

This action is not available for any of the selected objects at this time.



Non provate assolutamente a cancellare la vApp sperando che vi "liberi" le VM, perché la cancellazione di una vApp comporta anche la cancellazione delle VM contenute!
Purtroppo il problema è grave, non tanto per non riuscire a togliere la VM, ma tanto per il fatto che molte funzioni si perdono… e le diverse KB di VMware non aiutano, visto che l'unica con questo messaggio di errore è la KB 2145731 – Web Client references need to be updated to vSphere Web Client.
Benché simile, la KB si riferisce a problemi di permessi ed è specifica per vSphere 6.0 (comunque è un altro bug stupido, tra l'altro non presente nel vecchio client per Windows):
When attempting to drag and drop a Virtual Machine to a different folder, or by using Move To option, you receive errors similar to:This action is not available for any of the selected objects at this time.
You do not have the required privileges for either of the objects that you want to move or for the destination objects.
Nel mio caso era diverso e non sicuramente legato ai permessi.
Ho trovato però un blog post (Remove Virtual Machines from a vApp) che forniva delle soluzioni possibili, ma dal mio punto di vista troppo lunghe poco pratiche per un eventuale utente base. Volevo una soluzione pià veloce.
Allora ho provato il nuovo client HTML5 (con molta fantasia chiamato vSphere Client) e con grande sorpresa, in questo caso funziona molto meglio di quello Flash. Benché non ci sia un menu specifico per togliere la VM, tutte le funzioni sono abilitate ed è possibile trascinare la VM fuori da una vApp!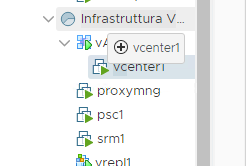 Peccato che il client HTML5 non abbia i plugin e quindi volete accedere a funzioni particolari siete costretti temporaneamente a rimuovere una VM dalla vApp, per poi passare al vSphere Web Client.