Reading Time:
3
minutes
Finally has been announced (or better, confirmed) that VMware plans to deprecate the Flash-based vSphere Web Client with the next numbered release (not update release) of VMware vSphere. What does it mean, that the HTML5-based vSphere Client will become the only GUI client… finally!
After the death of the vSphere Client for Windows, written with C# and with several issues, like the console issues with Windows 10, but also with several inconsistency with the others clients, now it's the turn of the Flash based client.
Unfortunately at the current release the Flash client (aka the vSphere Web Client) is the primary option, because it contains all the possible functions and settings, although there are different VMware vSphere 6.5 management UI and in the last year the HTML5 client has grow and now has about 90% of general workflows completed.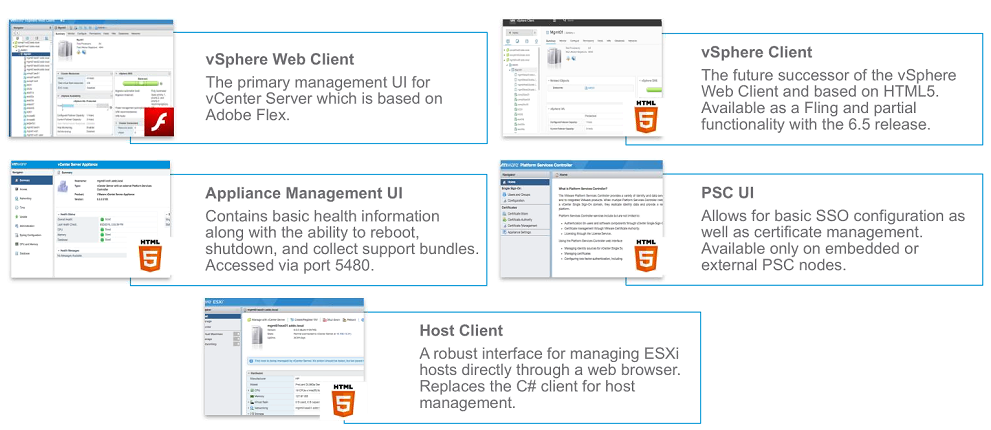 The vision to have a single UI in the future sounds very great to avoid confusion and to have a better and uniform look&feel with the host management (that starting with ESXi 6.5 is only possible thought the HTML5 GUI, at least for the standalone graphical management). Of course, the dead of the vSphere Web Client is also related with the announce of Adobe to deprecate Flash.
The vSphere Client will be the primary GUI administration tool for vSphere environments starting in the next release.  Customers should start transitioning over to the vSphere Client if they have not already done so as the vSphere Web Client will no longer be available after the next vSphere release.
As a reminder, the vSphere Client can be accessed via https://<vcenterfqdn>/ui and it is completely built on HTML5, requires no plugins, and it lightning fast. Also the console is very function with different browsers!
You can start make practice with it also with vSphere 6.0, using the Fling version, for vSphere 6.5 Update 1 the version is roughly equivalent (actually a bit newer) than the bits in v3.15 of the Fling.
Another great option is use the Technical Preview of VMware Worstation, is not (and will not be) a replacement for the GUI client, but it's possible do some basic management operations, now also for hosts.
And, of course, there are all the CLI management options where PowerCLI (now at the 10th Birthday Edition) seems to be the main (powerful) option.