Reading Time:
3
minutes
VMware vSphere Update Manager (VUM) enables centralized, automated patch and version management for VMware vSphere and offers support for VMware ESXi hosts, virtual machines, and virtual appliances.
For ESXi hosts it can manage both the update and the upgrade workflows, but can also be powerful for adding custom VIB package, like for example new drivers.
Usually it takes the updated files from the VMware repository, but you can also add custom repositories (or depots).
Each hardware vendor may have it's own repository and is possible add it to the list of VUM repositories.
For DellEMC you can use a custom repository to add packages like Dell iSM or new drivers.
I've already explain how add the repository using the vSphere Web Client, but now it's possible manage all the tasks with the HTML5 vSphere Client.
The procedure remain almost the same.
To add a custom repository using VMware vSphere Client: navigate on the Home icon -> Update Manager -> Select your desired vCenter (if you have linked mode) -> Settings tab:

Now you should see the default VMware repositories, but you can add a new one by click on NEW.
Add the following URL:
https://vmwaredepot.dell.com/index.xml
You can provide a description for this new download source: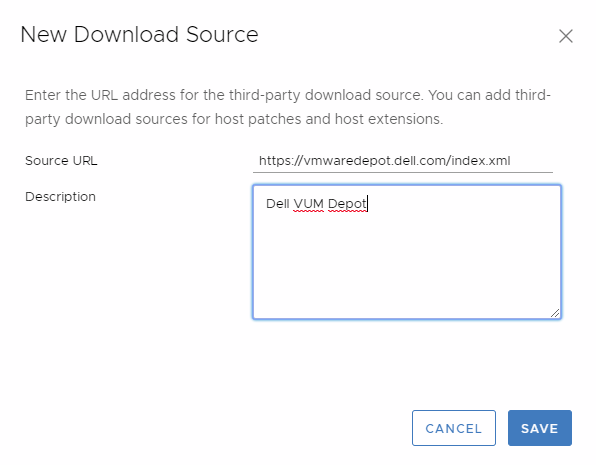 The repository will be included in the list of all the download sources:

You can disable the download source if you don't need it.
Now you can simply create a Dell Baseline, navigate to Baselines and Groups and click Create on Baseline.
Updated drivers could be created as an update baseline, but new drivers or new software components usually must be created as an host extention baseline.
Starting with vSphere 6.7 Update 2 finally you can remediate multiple baselines at the same time, but remember that a mix of update or extention baselines may require more than one host reboot.
Does this source replace the custom DellEMC ISO image? Not really… because it only include some 3rd party software from DellEMC, but does not include all OEM drivers.