Reading Time:
4
minutes
During the recent SHIFT 2023 event, Commvault has charted the future of cyber resilience using the power of AI to achieve the most powerful cyber resilience across the hybrid landscape.
The event was an in place event (in New York City on November 8), followed by a series of global simulcasts on November 9 in local time zones.
The most important announce during this event was the Introducing the Commvault Cloud, Powered by Metallic, designed to unify data protection, security, and AI-driven cyber resilience in the hybrid enterprise.
Commvault Cloud unifies all of the company's SaaS and software offerings on one platform, where visibility and control can be managed holistically via a single pane of glass.
The entire architecture is designed with multiple layers of security and an air gap protected immutable cloud storage: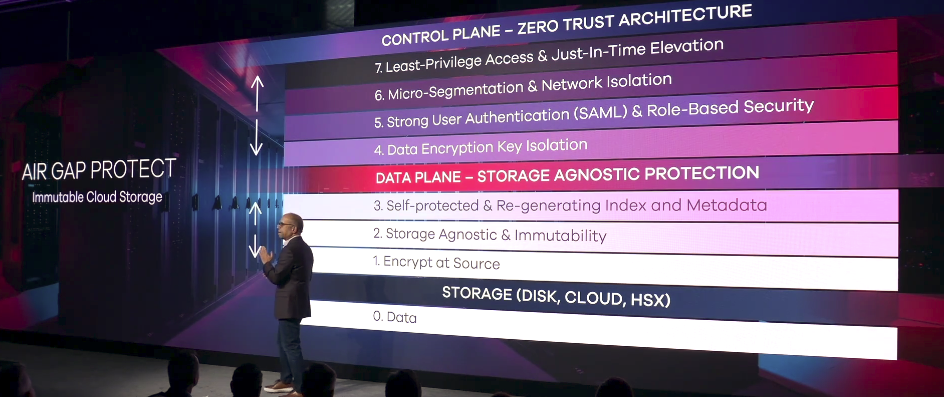 With Commvault Cloud's unique architecture, customers can secure and recover their data, across any workload, any infrastructure, and from any location to any location.

All at Petabyte scale!
With Commvault Cloud users will have access to Arlie ( a short for "Autonomous Resilience") a new AI co-pilot that is at their beck and call 24/7 and can respond to inquiries in plain, simple language. But behind the scenes, a lot more is taking place. Arlie will interface with generative AI models that not only consolidate information and reports, but provide users with personalized actionable responses. For example, users may be able to use Arlie to verify or validate a clean point of recovery for critical systems, or generate requested code in seconds.
Arlie will integrate on the backend with Azure OpenAI Service. New AI-enabled capabilities that support this type of personal/human interaction within Commvault Cloud will include:
Active insights: Gives users real-time threat analysis and report summaries showing the latest information about their cyber resiliency health, removing the need to sift through filters and reports to prioritize the most pressing information.
Code assistance: Offers a "no-code" way to build an integration or code an action: users simply type a description of what they want to do, and the code assistant will generate the code on the spot.
Custom walk-throughs: Provides context-sensitive, guided product walk-throughs that make it easy for users to set-up, customize, and tune Commvault Cloud to their specifications. They simply ask "how to" questions and receive step-by-step documentation with annotated screenshots.
Root cause remediation: Constantly monitors the performance of Commvault Cloud using generative AI to find issues and offer real-time recommendations on how to optimize cyber resilience.
Commvault is also announcing AI and security advancements that are coded directly into Commvault Cloud and "show up" as intelligent insights baked into daily workflows. Capabilities that match this description include:
Advanced threat prediction: Utilizes real-time predictive threat analysis to find AI-driven ransomware, including detection of shape-shifting AI malware, before they impact customers' backups and ability to recover cleanly.
Cloudburst Recovery: Improves business continuity by utilizing infrastructure-as-code and cloud-scaling to automate rapid and frictionless recovery of data to any location. Users benefit from exceptional portability, as well as a low TCO as a result of the accelerated process.
The entire offerings are targeted for general availability by the end of the calendar year in tandem with Commvault's next software release: Unified management between the company's SaaS and software offerings on one platform with Commvault Cloud, Commvault's AI co-pilot Arlie, active insights, code assistance, custom walk-throughs, root cause remediation, advanced threat prediction, Cloudburst Recovery, and Cleanroom Recovery.