This post is also available in: Italian
Reading Time:
3
minutes
The KACE Management Appliance delivers a fully integrated systems management solution, unlike traditional software approaches that can require complex and time-consuming deployment and maintenance. KACE accomplishes this via an extremely flexible, intelligent appliance-based architecture that typically deploys in days and is self maintaining. The KACE Management Appliance also provides direct access to time-saving AppDeploySM systems management community information using AppDeploy Live, the leading destination for end point administrators. The result: Comprehensive systems management that is easy-to-use and that can be more economical than software only alternatives.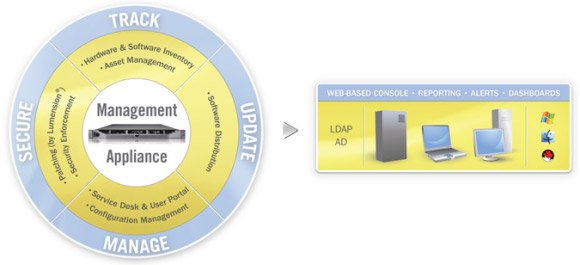 This appliances family can provide a lot of functions (that usually may require several different systems and software), included the deploy and configuration of the Secure Browsers. It also support several type of operating systems:
Windows 7 (Professional, Enterprise, Ultimate), Windows Vista (Business, Enterprise, Ultimate) , Windows XP SP2 – latest (Professional), Windows 2000 (Professional)
Windows Server 2008 R2 (Enterprise, Standard, Web), Windows Server 2008 (Enterprise, Standard, Web), Windows Server 2003 (Enterprise, Standard, Web), Windows 2000 (Advanced Server, Server)
Mac  Mac OS X 10.4 – 10.6 (PowerPC and x86 architectures )
Linux  Red Hat Linux AS and ES (Versions 3, 4 and 5, 32-bit and 64-bit architectures)
Instead of analyze the several advantages of this product, well described in the online documentation (with also some small labs and exerciese), in the webcast demo, in the interactive live demo, in a huge screenshots tour, … I would like to point some aspects that can be improved:
During the configuration too much reboot are required (it is a Unix system, just a service restart could be enough).
An automatic inventory of all the IT devices could be great (at least for all Dell devices, but it will overlap the OpenManage and similar tools).
The system can handle the upgrade of software components on supported operating systems, and BIOS / firmware upgrade only on Dell systems with a supported operating system. Could be nice it can handle also other devices.
Actually the supported operating systems list is etherogenous, but limited. More Linux distributions and why not, also ESXi?!
Actually is designed most for traditional PC management, with several function for servers and some for other end-user devices like smartphone and tablet (some functions already exist for iOS and Android devices, but more are needed, like firmware and software management).
This kind of service could become a nice type of cloud SaaS service (like for example Microsoft Intune). Of course a specific license will be needed as also a complete multi-livel  and multi-company interface). Actually there is an implementation of a multi-organization interface (using the /system URL instead of /admin), but is just a first step.
The script builder can be improved (at least with a visual approach as the one on the K2000).
For an intruduction of the KACE suite, see the related post.