Questo post è disponibile anche in: Inglese
Reading Time:
3
minutes
Il KACE Management Appliance fornisce una soluzione completa ed integrata di gestione dei sistemi, a differenza di altre soluzioni che richiedono diversi tipi di software e una certa complessità (e perdita di tempo) nella configurazione e gestione. Il vantaggio della soluzione appliance (o virtual appliance) è nella rapidà nel deploy e nelle ridotte dipendenze richieste.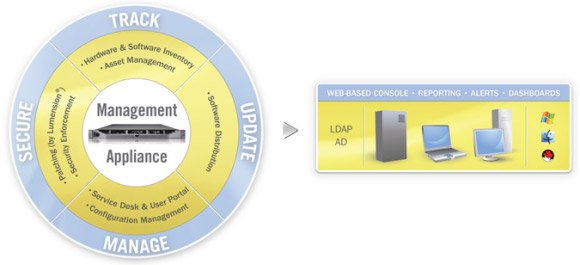 Svolge veramente tante funzioni diverse (che normalmente richiederebbe diversi tipi di software), inclusa anche la distribuzione e la gestione dei Secure Browser, e supporta diversi sistemi operativi:
Windows 7 (Professional, Enterprise, Ultimate), Windows Vista (Business, Enterprise, Ultimate) , Windows XP SP2 – latest (Professional), Windows 2000 (Professional)
Windows Server 2008 R2 (Enterprise, Standard, Web), Windows Server 2008 (Enterprise, Standard, Web), Windows Server 2003 (Enterprise, Standard, Web), Windows 2000 (Advanced Server, Server)
Mac  Mac OS X 10.4 – 10.6 (PowerPC and x86 architectures )
Linux  Red Hat Linux AS and ES (Versions 3, 4 and 5, 32-bit and 64-bit architectures)
Più che commentare gli aspetti positivi del prodotto, in buona parte descritti nel sito e coadiuvati anche dalla documentazione online (con tanto di mini-lab), da webcast demo, da interactive live demo, da un'abbondante screenshots tour, … volevo analizzare alcuni punti migliorabili:
Durante la configurazione sono richiesti decisamente troppi riavvii (in fondo è un sistema Unix e molti riavvii potrebbero essere sostituiti da semplici restart di servizi).
Sarebbe utile che riesca ad inventariare in automatico non solo i dispositivi con l'agente, ma tutti i dispositivi (almeno quelli Dell)… chiaro che a questo punto dovrebbe integrare buona parte delle funzioni della suite OpenManage.
Il sistema si limita a gestire gli aggiornamenti dei software e non quello dei BIOS e dei firmware (in realtà per server e PC Dell li gestisce, ma devono avere installato uno dei sistemi operativi supportati).
I sistemi operativi supportati sono un po' limitati, sarebbe interessante estenderli aggiungendo anche ESXi e altre distribuzioni Linux.
Gestisce bene solo sistemi PC tradizionali, mentre sarebbe molto interessante (soprattutto per il futuro) la gestione anche dei dispositivi di tipo smartphone e tablet (in realtà alcune funzioni di gestione sono già disponibili per dispositivi Android e iOS).
Questo tipo di soluzione ben si presterebbe (previa la defizione di un'interfaccia multi-livello e multi-company) ad essere fornito come servizio in modalità cloud esterno (come ad esempio Microsoft Intune) e/o ibrido. Vedremo se in futuro si svilupperanno soluzioni in questa direzione (dove potrebbe tornare molto ultile alle aziende che offrono servizi di gestione remota). Per la gestione delle organizzazione multiple esiste già qualcosa (accedibile tramite la URL /system, anziché /admin, ma è giusto un primo livello).
La gestione degli script meriterebbe un vero e proprio wizard grafico (almeno simile a quello previsto nel K2000) per visualizzare meglio il flusso degli stessi.
Per una descrizione della suite, vedere il post relativo.