This post is also available in: Italian
Reading Time:
2
minutes
In the previous new products release we have notice several changes in some core parts, and several components are gone (see What's in and what's out). Now with the new vSphere 5.1 a new historical component (from the VI 3.0) will die soon: the vSphere Client!
The limits of this client are:
it works only on Windows client (so it isn't a multi-platform solution) and has some dependency with the .NET Frameworks
it's a thick client-server approach (compared with thin solutions, like browser oriented)
it's "complicated" to deploy and upgrade (strange that VMware has not opted to a simple ThinApp packaged to deliver this products)
most of the vCenter plugins may require also a client plugin part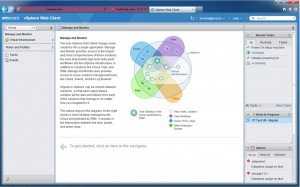 With the new vSphere 5.1 the vSphere Client is still supported, but all new functions are only available with the new client (that probably will completely replace the old one in the next release). The new client is "simple " the vSphere Web Client (introduced with the release 5.0 of vSphere). This client will become the primary client for vSphere administrators in vSphere 5.1 and will support more browser (compared to the previous version):
Internet Explorer / FireFox / Chrome fully supported
others (Safari, etc.) are possible,but without VM console access
Obviously it fill all the limits of the "legacy" client and will be a first step to a uniform management interface aspect across VMware products (for example, View Manager is already a web oriented interface with similar look-and-feel).
Of course is not all so good and nice (at least not in this first step): the GUI is based on Flash, so it's not so multi-platform (at least not on all the tablet products). Also the vCenter Server plugins must be converter to a web-oriented approach: this is already true for some plugins, but not all! So we have to wait (probably some months) until new plugins are available!
So we can finally say: bye bye vSphere Client and welcome to the new Web Client! And who will be next? (I already have an idea of good candidate).