This post is also available in: Italian
Reading Time:
5
minutes
In the previous posts we have discuss about the architecture and the deployment of NexentaVSA for View. Has you have probably notice the configuration of NexentaStor VSA is really simple: just an OVF deploy, a test to verify that all is fine and a convert to template to be used during virtual desktop pool deployment. Now let's talk about how use this product, that it's well described in the User Guide and also in this video.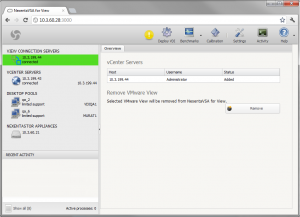 As written in the previous post, the management appliance could be controller with a simple browser (Mozilla Firefox v9 or later or Google Chrome v12x or later, but seems to work also on Microsoft Internet Explorer 9) using the URL http://ManagementVM:3000.
The GUI elements are:
NexentaVSA for View bar: the NexentaVSA for View wizards starts when you press these icons.
Objects List: this area lists all the objects that are associates with NexentaVSA for View. You can select objects from this list to view or perform actions.
Recent Activity panel: displays current and recent activity status. When a wizard processes an action, the transition status messages are displayed in this area. Click Show all to view the Activity report.
Working area: displays status, reference, selected actions links for the object selected in the related objects list.
The deploy of a new virtual desktop pool could start from the "Deploy VDI" button (remember that your VMware cluster must not contain any desktop pools, execpt the master golden image, prepared with the guest OS, VMware Tools, View Agent and the Client Agent). Note that you do not need to use anymore the View Manager interface, because the NV4V wizard will orchestrate the entire process.
Pools could be provisioned as Full Cloned or Linked-Clones (using VMware Composer). Also pools could be:
Stateless virtual desktops (in View Manager are the Automated Floating desktops): do not include any personal settings or data. When users log in, they are assigned a desktop randomly. User can create and stores data on a network file share or on a VMware View desktop persistent disk. When you select the stateless desktop pool type, NexentaVSA for View automatically assigns the Linked-Clones provisioning type.
Persistent virtual desktops (in View Manager are the Persistent and Assigned desktops): preserve user settings, customization, and data. When users log in, they retrieve their designated desktops. When you select the persistent desktop pool type, NexentaVSA for View automatically assigns the Full Clones provisioning type.
Then the wizard is quite similar to the one in View Manager (maybe a little simple, with less tab to explore), but with a big difference: the Configure Storage tab!
In this step you can choose to Create a new NexentaStor VSA(s) or using an existing external NFS storage (that could be an existing NexentaStor VSA or Hardware Appliance, or an existing NFS share address). The deployment of a new NexentaStor VSA could be completely automatic (if you have prepared the template for it).
The choice to use NFS, instead of iSCSI, is for a scalability reason and to use ZFS locking features, instead of VMFS. I suppose that probably there is also a reason related to the efficiently of the VSA.
Except the storage part the pool provisioning is quite similar to the one in View Manager. But is not similar how you can see and monitor the used resources: the NexentaVSA for View Management interface can summarize if few pages a lot of useful information about your virtual desktop pools.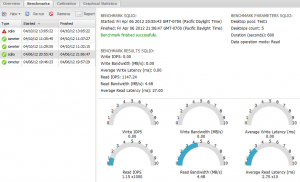 And is unique the Benchmark part, where you can test and measure several parameters (included IOPS with different tools) and also you can simulate and test a boot storm! The benchmark aspects are completely uncovered by View Manager, and are not so easy to obtain (or analyze) from the vCenter Server.
Also the Calibration is another unique function of this product: using the incremental benchmarks, the Calibration wizard helps you to determine the maximum number of desktops, memory, CPU cores, or cache size that are supported with a selected I/O performance.
Of course NexentaVSA for View does not replace the View Manager and VMware licenses. And does not completely eliminate the need of some kind of shared storage (for the management cluster, if you want/need high availability, but also the user states, if you need them). But could add some really interesting features and also use you host local storage efficiently.
About the cost, it is licenced per virtual desktop and the official price is around 35$ per VM (with gold level support) with a minimum kit of 100 VM (that include also the license for NexentaStor VSA).
Previous posts: