This post is also available in: Italian
Reading Time:
3
minutes

During the last Dell Storage Forum event, there where a lot of social media activities. Considering that this time I was invited as a blogger, I can speak about all blogger's related activities.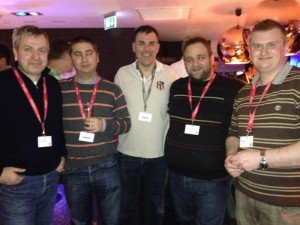 The list of official blogger, this time, was quite limited:
In this picture (taken by Michelle Richard) you can see the group with Charles Gillanders, formally a customer, but also a great blogger.
Think Tank
The Fluid Forward Think Tank was an event, scheduled on Wednesday, where basically bloggers, partners, customers and Dell people made a brainstorm regarding several topics within the IT industry. Was a great moment for sharing experiences, points of view, thoughts about storage and in general in IT trends.
Also was interesting that during all this event (from 9AM to 3 PM!) there was a drawer that has captures with some images and sentences the discussion. For the final version see this picture.
We had Simon Robinson, Research Vice President of 451 Research as a moderator but also as an active contributor in the discussion. Other people involved were:
The entire video of the event are available on Livestream
For more information see also Bruno Sousa and Barry Coombs reports.
Storagebeers
As usual, in this kind of events, a #StorageBeers is quite mandatory, and the one for this Dell Storage Forum was scheduled on Wednesday evening. Lot of interesting people, the only pity was that site was a little small and with different room. But really a good time. Here a picture of the event.
Tech Talk
On Thursday morning, after the keynote, there was a Press and Blogger Session held by Darren Thomas and other Dell guys with a deep analysis of previous announcements and a Q&A session. Here a picture of the event.
Tech Lunch
Still on Thursday, after Press and Blogger Session, there was a Blogger Lunch with all the event bloggers and with Laz Vekiarides (Executive Director of Software Engineering for EqualLogic at Dell) and Andy Hardy (Managing Director – Dell Compellent International) and also Alison Krause and Michelle Richard (from the Social Media team of Dell).
Again… it was a unique and valuable moment to sharing technical and non technical arguments.