Questo post è disponibile anche in: Inglese
Reading Time:
4
minutes

Durante l'ultimo Dell Storage Forum, vi sono state, come di consueto, numerose attività di tipo "social". Visto che questa volta sono stato invitato in veste ufficiale di blogger, posso descrivere le attività che ci hanno riguardato.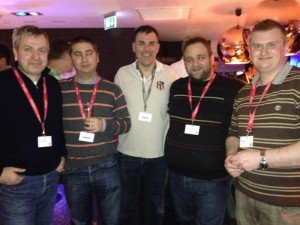 Curiosamente, il numero di blogger invitati (escludendo quindi gli analisti e la stampa) a questo evento era ridotto (una ragione in più per considermi fortunato ed onorato):
Nella foto accanto (scattata da Michelle Richard durante la prima sera) si possono vedere tutti e quattro, con i mezzo Charles Gillanders, che benché formalmente era in veste di cliente, si è rivelato anche un ottimo blogger.
Think Tank
L'evento Fluid Forward Think Tank, si è svolto di mercoledì e ha coinvolto blogger, partner, clienti e persone di Dell. L'obiettivo era un grande brainstorming su diversi aspetti dell'IT e sui relativi trend. Sicuramente è stato un importante momento per condividere e scambiarsi punti vista, opinioni, dubbi, esperienze.
Aspetto curioso è che durane tutto l'evento (dalle 9:00 alle 15:00, pausa pranzo esclusa) vi era una persona incaricata di tradurre in immagini e/o raccogliere le frasi salienti dei concetti e dei vari discorsi. La versione finale di questa versione disegnata è visibile in questa foto.
Come moderatore abbiamo avuto Simon Robinson, Research Vice President of 451 Research, che ha svolto egregiamente il suo lavoro, non solo moderando e dettando i tempo, ma anche suggerendo l'ordine degli argomenti e contribuendo in modo attivo alla discussione.
Le altre persone (a parte quelle Dell) coinvolte nell'evento erano:
L'intera registrazione dell'evento è disponibile online su Livestream


Gli argomenti discussi sono decisamente tanti e difficilmente sintetizzabili in poche parole. Per ulteriori informazioni vedere anche i report di Bruno Sousa e Barry Coombs.
Storagebeers
Come di consueto, per questo tipo di eventi, una #StorageBeers è quasi d'obbligo e quella del Dell Storage Forum era prevista per mercoledì sera. Occasione per incontrare e scambiare quattro chiacchere con diverse persone.
Putroppo il posto era decisamente piccolo (rispetto al numero di persone presenti) e questo ha costretto a sparpagliarci. Una foto ricordo della serata à disponibile qui.
Tech Talk
Giovedì mattina, dopo la keynote, si è volta in forma ristretta una "Press and Blogger Session" tenuta direttamente da Darren Thomas (che aveva presenziato anche alla keynote del giorno) insieme ad altri illustri personaggi di Dell.
L'occasione è stata quella di approfondire gli argomenti della keynote e soprattutto quanto riguarda i diversi annunci di nuovi prodotti. Mi era già capitato di partecipare ad una sessione solo per la stampa (ad un precedente VMworld) e devo dire che l'interazione è decisamente maggiore in questi momenti (sia per il numero minore dei partecipanti), sia per l'attenzione ai dettagli. Anche in questo caso è disponibile una fotografia riassuntiva.
Tech Lunch
Sempre di giovedì, dopo la "Press and Blogger Session", vi è stata la "Blogger Lunch" aperta i blogger, ma con la partecipazione straordinaria di Laz Vekiarides (Executive Director of Software Engineering for EqualLogic at Dell) e Andy Hardy (Managing Director – Dell Compellent International), oltre che di Alison Krause e Michelle Richard (del team "Social Media" di Delll).
Pranzo piacevole, sia per il cibo (nonostrante il cibo francese non sia all'altezza di quello italiano), ma soprattutto per la compagnia. Si è discusso di aspetti tecnici (molto belli i racconti di Laz sul "dietro alle quinte" della progettazione dell'Equallogic), ma anche di argomenti meno tecnici.