Reading Time:
5
minutes
I've wrote about Platform9 several months ago, when they announce their product for making private cloud easy using a public cloud enterprise service based on OpenStack. They were very active in those months and part of several industry level events, included latest IT Press Tour and Virtualization Field Day.
After six month beta where the service was tested by enterprises and service providers across diverse industries and geographies with 1000s of virtual machine deployments everyday, they now announced the general availability of Platform9 Managed OpenStack, the SaaS solution that transforms an organization's existing servers into an AWS-like agile, self-service private cloud within minutes.
In addition to supporting KVM environments today, Platform9 Managed OpenStack is now available in beta for VMware vSphere environments, with more than 20 customers participating in the beta. Support for Docker is in development, and a beta will be announced later this year.
They are using, as a model of agility, public clouds like AWS and elite technology firms like Google that manage their infrastructure with efficient resource pooling, infrastructure automation and developer self-service. Organizations are looking to achieve the same level of agility and efficiency with a private cloud, thus enabling Devops workflows using their in-house infrastructure. OpenStack is the solution that customers turn to, since it is the leading open-source project channeling innovations in cloud infrastructure. However, most organizations struggle to realize OpenStack's potential due to challenges in implementation — they may lack the skills required, end up creating greenfield silos, and often end up in professional service engagements with questionable ROI.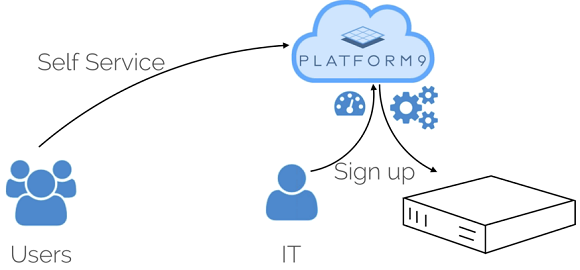 "CIOs are looking to transform their highly virtualized datacenters into private cloud infrastructures, delivering greater management automation and efficiency to their organizations. They have been evaluating open source projects like OpenStack and KVM, but needed simplifications to the packaging and operational experience," said Mark Bowker, Senior Analyst at Enterprise Strategy Group. "Platform9's OpenStack-as-a-Service model simplifies the operational experience for OpenStack to make it accessible to a wide range of organizations. This innovative new approach to private cloud management could trigger the inflection point for OpenStack and private clouds we've been waiting for."
What Differentiates Platform9 Managed OpenStack
Ease of use. Customers can sign up and use Platform9 Managed OpenStack without any OpenStack expertise. They get a 100% OpenStack API compatible, production ready configuration and can focus on using their cloud rather than spending time and money implementing it.
Leverages existing environments. Platform9 Managed OpenStack fully supports greenfield and brownfield environments so customers can easily import existing environments, including servers, storage, networks and workload configurations.
Single pane of glass. Because of its SaaS delivery model, Platform9 Managed OpenStack works seamlessly across multiple geographies, enabling customers to save costs by consolidating their distributed infrastructure into a single private cloud. In addition, since Platform9 Managed OpenStack supports multiple virtualization / container technologies, customers have the freedom to use the virtualization technology most suitable to specific applications or projects.
Production ready for the enterprise. Platform9 Managed OpenStack delivers OpenStack's distributed services in a fully tuned and tested configuration, thus being ready for the most demanding enterprise workloads. It is being used in environments with 1000s of Virtual Machine deployments everyday, and by customers running infrastructure distributed across continents.
Service SLA + Built-in monitoring. Unlike public clouds that offer Service SLAs, Enterprise IT is responsible for their private cloud SLA. Platform9 Managed OpenStack comes with a Service SLA that IT can rely upon: the service is continuously monitored by Platform9's internal telemetry for availability and operational health.
Seamless updates. Seamless, non-disruptive updates are built into Platform9 Managed OpenStack. The service receives minor fixes and updates periodically, but like other SaaS services, this is transparent to customers. In addition, the service seamlessly upgrades to stable OpenStack releases annually, so customers can also leverage enhancements in OpenStack itself.
Pricing and Availability

Platform9 Managed OpenStack is now generally available with three tiers:
Lite is a free tier for those testing or learning about OpenStack, and is limited in scale
Business tier with unlimited scale is priced at $49 per CPU per month (annual subscription required)
Enterprise tier for advanced features and premium support
Customers can sign up for the Lite tier or start their free Business/Enterprise trial via their web site.
Platform9 and the OpenStack Foundation
Platform9 recently joined the OpenStack Foundation as a Corporate Sponsor. Mark Collier, COO of the OpenStack Foundation, said, "Companies like Platform9 add to the depth and diversity of consumption options and application use cases available in OpenStack. Many enterprise customers want a simpler deployment path for OpenStack private cloud, and additional choices are a plus for them. We welcome the Platform9 team's engineering contributions and insights to the OpenStack community."
Some video
For more information see also the latest Virtualization Field Day videos: