This post is also available in: Italian
Reading Time:
2
minutes
Nutanix and Lenovo announced a strategic worldwide partnership and OEM agreement to deliver invisible infrastructure to datacenters around the world. This second OEM partnership with Lenovo (after the one with Dell), will add more customer choices for Nutanix-based hyperconverged solutions on their hardware platform of choice.
Lenovo will be delivering Nutanix XCP on their world-class System x server platform.

With this move now the Nutanix XCP will be available on three different hardware platforms: the Nutanix one (that is mainly a Supermicro server platform), the Dell XC and the new Lenovo.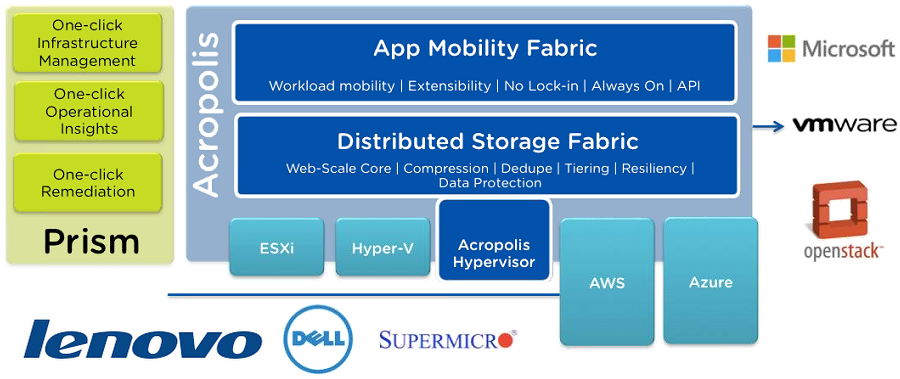 Potentially there is also another platform: the Community Edition, where you can build your own Nutanix Acropolis system (with some limits, like the number of maximum nodes or the support of only the Acropolis Hypervisor). But for production environments, the only available platform are the three mentioned before.
Should be interesting see if the cross-platform policy will change: actually is not possible mix (in a supported environment) appliances from different hardware vendors. But the power of SDS make this technically possible. The only limit is the support matrix. Now that there is a new player, maybe something should change.
For sure will give more opportunity.
"Lenovo can bring a new perspective to the global enterprise space. We do not have to protect old ways of thinking or entrenched ideas. Instead, we can build our business on innovation, and partner freely with the most innovative, leading companies in this space to create new solutions," said Yang Yuanqing, chairman and CEO, Lenovo. "Nutanix's well recognized technology leadership, paired with our global reach, will enable both companies to thrive by helping customers dramatically reduce complexity in datacenters of all sizes."
Here are some relevant dates to know:
Nov. 4th – official partnership announcement
Dec. 7th to 9th – Lenovo product announcement at Gartner Data Center, Infrastructure and Operations Conference in Las Vegas
Q1 2016 – general availability of Lenovo hyperconverged appliances powered by Nutanix