Reading Time:
4
minutes
Caringo is a storage related company founded in 2005 to change the economics of storage by designing software from the ground up to solve the issues associated with data protection, management, organization and search at massive scale.
Founders background on object storage were really solid, considering that they were involved in the EMC Centera project and their solution (Swarm) is quite interesting with some unique capabilities.
Caringo today announced Swarm 8, offered as a complete software appliance, Swarm provides a storage platform for data protection, management, organization and search at massive scale. Users no longer need to migrate data into disparate solutions for long-term preservation, delivery and analysis. Consolidate all files on Swarm, find the data you are looking for quickly, and reduce total cost of ownership by continuously evolving hardware and optimizing use of resources.
Swarm 8 installs on any mix of standard hardware, runs in RAM, and unlike file-system based storage, maximizes disk efficiency with an industry leading 95% of drive capacity for content. This is quite unique: OS runs in RAM (like for example ESXi) and disks are not formatted, but accessed with a raw mode. Metadata are just associated with each object (for this reason the disk usage is not 100%) but also indexed on a fast tier.
Storage objects could be read and write with an Universal access: native HTTP, S3, OpenStack Swift or Hadoop are some way. But there are also some gateway to access this storage as a "common" NAS with SMB or NFS protocol.
Also with FileFly is possible have smart file movement based on data value and have the best both from file and object storage in one solution integrated with Windows and NetApp: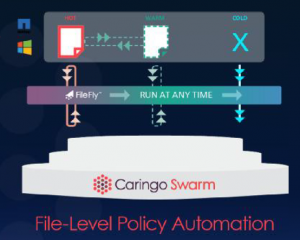 Another interesting feature is Darkive™adaptive power conservation to manage nodes power and be able to "power off" nodes, if data are not been access from several time.
Swarm 8 radically simplifies an organization's ability to apply the value of data in an actionable way, providing insight at scale. One of Caringo's latest customers, iQMedia, who specializes in media analytics across television, online, social, and first-party data sources, is already reaping the benefits of Swarm 8.
With Swarm 8, Caringo is providing specific customer benefits including:
Dynamic insight and organization at massive scale. Gain robust insight and view relationships between objects through ad hoc search and query of object attributes or custom metadata. Results can be viewed via the new Swarm Portal or Caringo's comprehensive API, or exported to JSON or XML. All searches are dynamic and can be saved as Collections for reuse.
Rapid file use case development. Object versioning and object renaming dramatically reduce the development effort of integration with file system-based applications and interfaces.
All-inclusive, no-surprises pricing. Swarm 8 comes standard with ALL functionality enabled. This includes unique Swarm features like Darkive™ adaptive power conservation, all compliance features, HDFS, all multi-tenancy features (for public/private/hybrid cloud), NoSQL-like search and more.
Flexible deployment to meet any operational business requirements. Swarm 8 is available as software you run in your own data center(s), as a service in any of the Microsoft Azure globally distributed data centers or as a fully managed service within BT or Telefonica's globally distributed data centers.
Additionally, Swarm offers unrivaled integration into leading enterprise applications like Veritas Enterprise Vault, Commvault Simpana and compute and orchestration platforms like OpenStack, Spark and Hadoop. Search results can be seamlessly accessed via Kibana for visual analysis and discovery.
Swarm 8 is available immediately. For additional information or to schedule a demo please visit www.caringo.com