Reading Time:
3
minutes
VMware Virtual SAN has grow quite fast in the last year and now has more than 5000 customers (in more than 100 countries) and several features comparable with other storage solutions.
In few years VSAN has become an interesting solution:
VSAN 5.5: First version of the product
VSAN 6.0 (march 2015): add All Flash Array (AFA), 64 nodes as cluster size and more than 2x Hybrid Speed
VSAN 6.1 (September 2015): add stretched cluster and 2-nodes ROBO scenarios
VSAN 6.2 (March 2016): add deduplication and compression (only for AFA) and quality of service
VSAN 6.5 (Late 2016): will add iSCSI Access, 2-nodes direct connect and management improvements
The first news from version 6.5 is the iSCSI access for external workloads both for physical workloads of guest clustering.
Virtual SAN iSCSI Target Service enables Block Storage with those limitation:
Provides max 1024 LUNs per cluster
Max of 128 sessions per node
Max of 128 Targets per cluster
Max LUN size of 62TB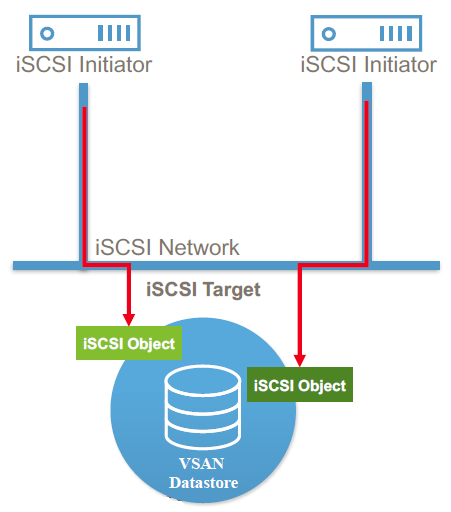 Still no native filer features, but you can use other solution like Nexenta, for example.
The direct connection is a big improvement for the Remote Office / Branch Office (ROBO) scenario to remove the needs of 10 Gbps switches or to limit the impact of the switch failure in the remote office. Other ROBO specific solutions were already able to to connect the two nodes directly two ethernet cables between hosts for higher availability of network.
Now will be possible also for VSAN in order to separating the VSAN data traffic from witness traffic: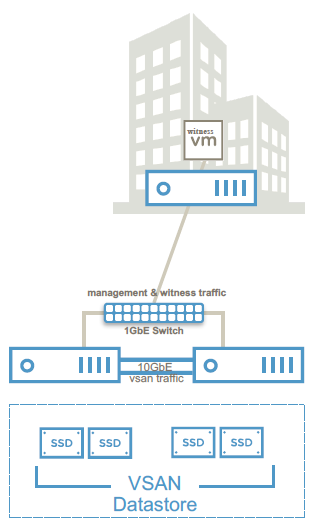 This configuration is a little tricky and require specific configuration for vMotion and VSAN vmkernel interfaces (vMotion can use multiple interfaces, but VSAN no!):
vMotion VMkernel interface setting: Explicit Fail-over order = uplink 1 active / uplink 2 standby
Virtual SAN VMkernel interface setting: Explicit Fail-over order = uplink 2 active / uplink 1 standby
Then you have to set the designated witness VMkernel interface to witness traffic type:

esxcli vsan network ip set -i vmkx -T=witness

And validate the traffic type is witness: "Traffic Type: witness"

esxcli vsan network list

Also the licensing for ROBO will be new: there will be a offering that makes all-flash and space efficiency features available to ROBO customers, with still the 25-VM packs SKU.
Another interesting news is that all-flash hardware support now available on VSAN STD, along with ADV and ENT editions (IMHO I would like to simplify the editions of VSAN, three sounds too much). Note that space efficiency features (dedupe, compression, erasure coding) remain in ADV and ENT only