Reading Time:
2
minutes
The new version of Vembu BDR Suite v3.7.0 is now Generally Available (GA) with new capabilities.
Vembu designed VMware backup protects vSphere and vCenter environments using VMware vStorage APIs (VADP). Users can backup and replicate unlimited VMs from VMware vSphere ESXi hosts without installing any agents inside VMs. Direct Hot-Add and SAN transport mode provides faster data transfer speed with less resource utilization. VMBackup will auto analyze the VMware environment and assigns the appropriate data transfer mode.
Backup VMs running in a Hyper-V host without installing agent on individual VMs. Vembu's proprietary Hyper-V CBT driver tracks the changed blocks in an efficient manner and runs incremental backups 5X faster!
New features added in this release are:
Supports Backup for VMware, Hyper-V, Windows Physical Servers, Desktops:With v3.7.0 U1 release, Vembu BDR provides production support for vSphere 6.5 environment. Users with upgraded VMware environment can now protect their VMs with Vembu backup and replication support. It also support previous vSphere version included VMware vSphere 4.x!
Application Level Backup for MS Exchange Server, MS SQL Server, MS Sharepoint Server, MS Active Directory, Files/Folders & more…
Multitenancy support is now available for both Vembu BDR and Vembu OffsiteDR servers. Service providers can now manage their customers easily by adding specific set of customers, backups, servers and VMs under individual groups. Group level web access can also be enabled for customers to monitor and manage their backup jobs.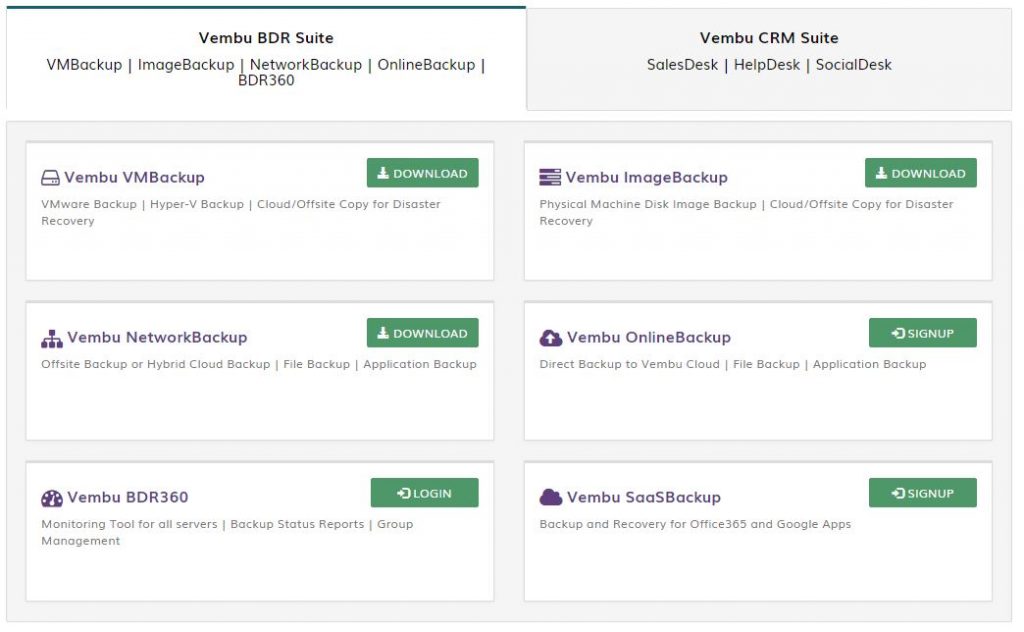 Windows installer is supported on the following OS:
Windows Server 2016 | Windows Server 2012 R2
Windows Server 2012 | Windows Server 2008 R2
Windows 10 (only for evaluation purposes)
But there are also: Linux, VMware/Hyper-V virtual appliance installation (if you wish to deploy the Vembu BDR backup server in Linux or as VMware/Hyper-V virtual appliance please contact [email protected])
For Linux it's supported Ubuntu 16.04 LTS Ubuntu 14.04 LTS Ubuntu 12.04 LTS-
Note that it required a backend database, but from Vembu BDR Suite v3.7.0 onwards, the backend database it's now PostgreSQL.
Vembu introduces Free Edition in v3.7.0 release. So, users can now backup VMware, Hyper-V and Physical Windows Server with limited features at free of cost after trial period.