Reading Time:
2
minutes
VMware Cloud on AWS is an on-demand service that enables you to run applications across vSphere-based cloud environments with access to a broad range of AWS services.
VMware is pushing on this service and its offer, and few weeks ago has actived the first "European" region in UK.
This offering is a native, fully managed VMware environment on the AWS Cloud that can be accessed on an hourly, on-demand basis or in subscription form. It includes the same core VMware technologies that customers run in their data centers today including vSphere Hypervisor (ESXi), Virtual SAN (vSAN), and the NSX network virtualization platform and is designed to provide a clean, seamless experience.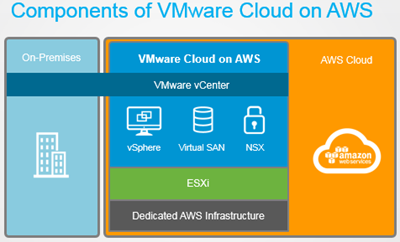 But it isn't something static… VMware is pushing more services (like Horizon or mission critical databases) and more features on it. And has publish a public roadmap to follow the status on its evolution.
Actually there are some interesting features in preview:
Stretched Clusters for VMware Cloud on AWS: zero RPO high availability for enterprise applications virtualized on vSphere across AWS Availability Zones (AZ)… note that it isn't across your on-prem and the cloud infrastructure
vMotion between hosts in a stretched cluster across 2 AWS Availability Zones: quite natural function if you implement the previous one.
Firewall Rule Accelerator: to simplifying creation the required firewall rules in the VMware Cloud on AWS Console to allow communication across on-premises networks and VMware Cloud on AWS SDDC components.
And several API integration and support
The Elastic DRS feature, to automating VMware SDDC clusters scaling and resource optimization based on user requirements (promised at the latest VMworld), is still in developing status.
In the same state is the first region in the European Community, planned to be in AWS EU (Frankfurt).
But the most interesting features are those in the "Planned" status: for example, for the security aspect, is planned to add vSAN full data store encryption with customer managed keys. Of course several others AWS regions are in planned status (at least Japan, Gov US-West, additional EU and Asia Pacific regions).