This post is also available in: Italian
Reading Time:
3
minutes
Nimbus Data Systems, was a storage flash company founded on 2006 with their own flash devices with some intesting products (see for example Nimbus Data – High-performance storage).
After some years of shadows (The "latest news" on the front page of the Nimbus web site is a press release dated June, 2014), now the company it's back again (with just the name Nimbus Data, but the same logo and the same CEO).
And they have just announce the world's highest capacity and most energy-efficient solid state drive, the ExaDrive DC100, at 100 terabytes!
Yes, 100 TB in one SSD… a huge and impressive capacity, considering that only in 2012 they've got 1TB SSD: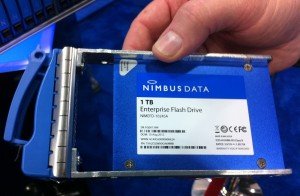 With up to 100 TB of flash in a single SSD, ExaDrive offers over 3x the capacity of the next largest SSD on the market while consuming as little as 1/8th the power per terabyte. Compared to traditional hard disk, it has 8x more capacity than the largest HDD.
With its industry-standard 3.5" form factor, ExaDrive is plug-and-play compatible with existing enclosures, enabling customers to upgrade to an all-flash infrastructure without investing in entirely new all-flash arrays. Performance i quite good: up to 100K read/write IOps for balanced performance.
Price is still not announced but the product will probably be ready for this summer.
Interesting the 3,5″ form factor, but with this huge capacity a 2,5″ was probably impossible. Maybe other vendor will use again this form factor that it's also widely for the SATA and Nearline SAS low cost disks.
So Nimbus is still alive (see this post: Nimbus CEO: We're still alive) and its CEO confirm it:
"Nimbus Data has been very quietly at work on its most ground-breaking all-flash technology yet and soon will be unveiling a battery of new systems and software," Isakovich wrote. "The all-flash wars have only begun. Less than five percent of storage systems revenue is currently derived from all-flash systems. This is still the very early days of this industry."