This post is also available in: Italian
Reading Time:
4
minutes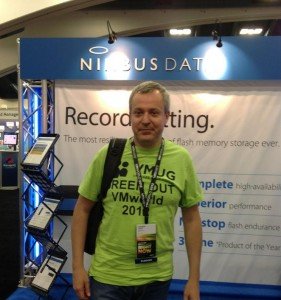 During the last VMworld US, I've spend some to to visit several booths to know more about some vendor that are not present in my Country (or in the entire region).
One of them was Nimbus Data Systems, company founded on 2006 (at South San Francisco, and now with offices also in Netherlands and UK). It develops the award-winning Sustainable Storage® systems, an intelligent, efficient and fault-tolerant solid state storage platform engineered for server and desktop virtualization, databases, HPC, and next-generation cloud infrastructure.
Their points for storage systems are: performance, efficency and simplicity! If the last two aspects could be handles by the software layer, but in order to guarantee high performance a good design and SSD are not enough.
For this reason they develop and build its own systems not only on the software side (they have a specific OS, HALO operating System, designed for this kind of storage), but also on the entire hardware side!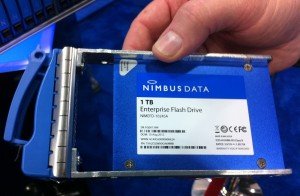 Starting from the SSD (the only type of disk that is used in their storage), those are self-build, completely custom and unique:
They are just called Flash module or Flash Drive (and are 24 for each system)
Up to 2 TB per disk (in the picture the one at 1 TB)
Integrated cache on each flash module
Distributed cache across the all flash modules
Each flash module also has non-volatile write cache
Each flash modules connects via a native 6 Gbps interface
In this way all bottlenecks (on the storage side) are removed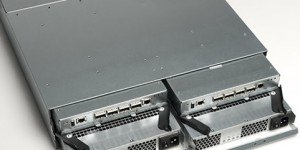 But also the other hardware parts are completely self-designed to provide a full hot-swap, high-performance, power-efficiently system!
On the front-end side of each storage unit, there are different options:
Up to 16 ports of Gigabit Ethernet
Up to 16 ports of 10 Gigabit Ethernet
Up to 8 ports of 16 Gbps Fibre Channel
Up to 8 ports of 56 Gbps Infiniband
Storage scalability is a scale-in approach (for more info see this previous post about scale-in and scale-out models), that could sound an "old way" approach… but considering the distributed cache, the custom hardware and the powerful front-end side, I think that is could be the right choices to keep the OS simple (a scale-out approach imply mode complexity) and to have a linear scalability.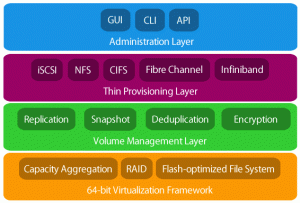 About the software side, the HALO operating System

provides end-to-end administration, optimization, detailed monitoring of the storage system, security and protection of data. By building the software special for an all flash memory system the HALO OS maximizes the lifespan of the flash memory and the capacity of the system.
Software features list is quite big, but most important systens are shipped with an all-inclusive licensing!
Also HALO provides unified iSCSI, Fibre Channel, Infiniband, NFS, and CIFS support for block and file storage in one system. No need to deploy separate NAS and SAN systems.
Conclusion
Some choices sound strange, at least at the first time, but they have a reason.
I've already explained with a scale-in (instead of a scale-out) choice and I suppose that is clear why a custom hardware/software solution (in this case the storage isn't simple a software layer and does not use standard hardware!) to reach the maximum performance.
Maybe the choice to choose only flash drive without any SATA or SAS disks could be still strange. You can reach big performance, but what about cost? According with this page, seems that cost could even be lower than a tradition solution based on 15K SAS disks! And considering operational cost (like power supply and cooling) TCO could also be better!
To have more information see the official web site and also the literature page (with several documents).