This post is also available in: Italian
Reading Time:
4
minutes
During the last Dell Technologies World 2018, there were several announce on new products or new versions of existing products.
And, in the storage, are also a new replacement (it's not just an evolution) of the VMAX storage: the new Dell EMC PowerMax.
Powered by end-to-end NVMe, real-time machine learning, and up to 10 million IOPS, the new Dell EMC PowerMax storage array features high-speed smarts that deliver big-time results.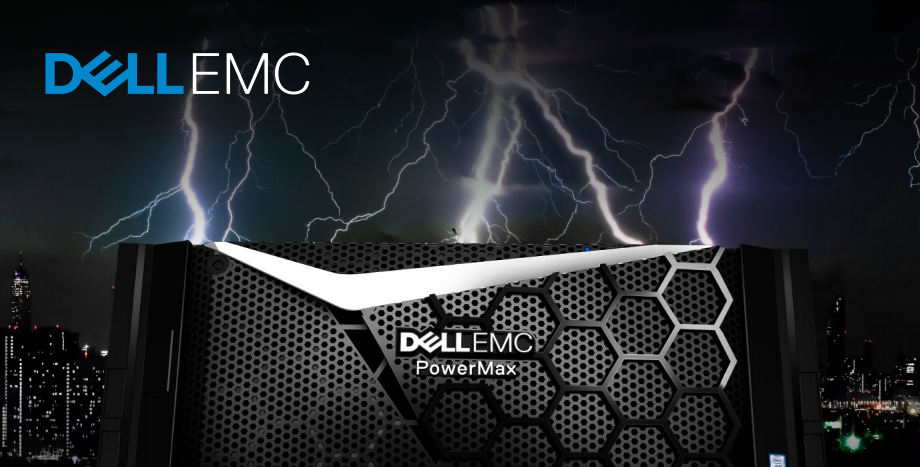 PowerMax is built with a multi-controller, high coupled, scale-out architecture, and this could be similar to the VMAX (or also the old Symmetrix). Also, PowerMax is powered by standar CPU like the Intel® Xeon® processors (E5 series), but again nothing so much new, considering that most of the storage use standard CPU (and also a quite standard motherboard).
Dell EMC PowerMax grows with you and never lets you down with multi-controller architecture and multi-dimensional scale! https://t.co/TnKHIGSvCG pic.twitter.com/zxZ8Kz9IhF

— Dell EMC Storage (@DellEMCStorage) 31 ottobre 2018
The great CPU power is required to deliver unmatched performance and data services, including proven availability, security, protection, scalability and massive consolidation to protect your mission-critical applications of today and tomorrow.
Also each controller it's quite modular with several front-end options, but also in this case nothing much too new.
Data services are quite rich, considering that PowerMax includes inline deduplication and enhanced compression providing up to 5:1 data reduction, while delivering industry-leading security, protection and resiliency. But again not much new compared to other modern storage.
Where is very innovative is the architecture designed on the state of art of the current technology: totally end-to-end NVMe to support NVMe-over-Fabrics and high-speed, PowerMax is not only fast, smart and efficient, but also engineered to handle the world's most demanding application workloads.
And it's already designed also for new technology trends, like low-latency Storage Class Memory (SCM), and of course, with the modular controllers, for the new standard in the front-end interfaces.
But which is the typical use case of this storage? Dell EMC is shaping its Tier 0 storage at the top level of its portfolio. The best for all the cases where you need smaller latency (micro-seconds), super high availability (six nines, or 99,9999%), top performance (up to 10 million of IOPS and 150GB/s bandwidth).
Too much? It's like a Ferrari car… maybe not for all, but somebody wants (or needs) it.
Another interesting aspect is the new PowerMaxOS, the storage OS of PowerMax that includes a built-in machine learning engine, which makes autonomous storage a reality, leveraging predictive analytics and pattern recognition to maximize performance with no management overhead. Built-in machine learning is the only cost-effective way to leverage SCM. Dell EMC is also the only company that can provide this level of storage software intelligence – currently analyzing 425 billion data sets in real time6 across its high-end All-Flash customer base.
Actually, two different models have been announced: PowerMax 2000 and PowerMax 8000.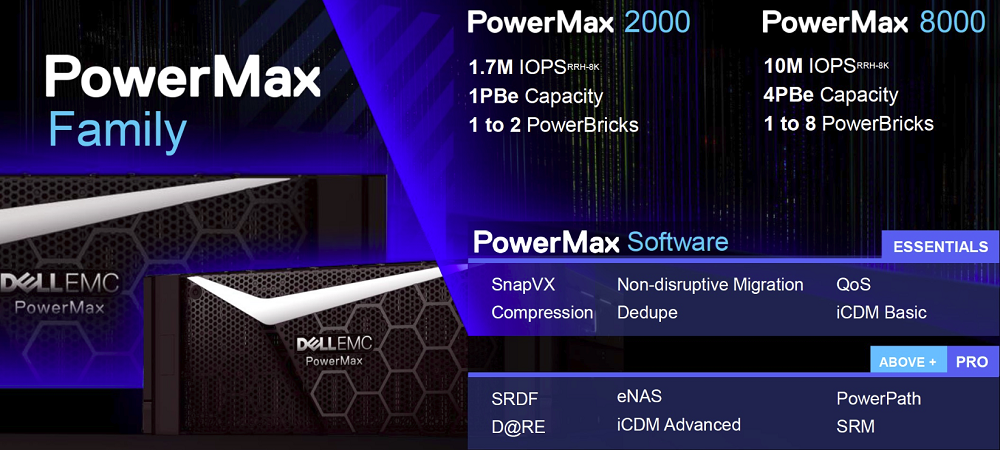 Dell EMC PowerMax 2000: NVMe performance, mission critical availability, and legendary data services come standard on the entry point PowerMax array, the PowerMax 2000.
1.7 million IOPS
Under 300 microseconds latency
1 PB effective maximum capacity
99.9999% availability
Future-proof end-to-end NVMe
Block/file, open, & IBM i support
Dell EMC PowerMax 8000: Future proof NVMe enables you to tackle mission-critical applications today and tomorrow with the world's fastest storage array, Dell EMC PowerMax 8000.
Up to 10 million IOPS
Under 300 microseconds latency
4 PB effective maximum capacity
99.9999% availability
Future-proof end to end NVMe
Mixed workload consolidation
See the PowerMax features that deliver unmatched performance and data services in this infographic.