Reading Time:
3
minutes
As written in previous posts, Virtual Instruments provides a full stack monitoring for physical, virtual, and cloud computing environments.
And this kind of analysis can help to better understood your workloads and the complexity to move them to a public cloud.
The "Cloud", through cloud migration, promises IT organizations unprecedented value in the form of cost savings, faster innovation, superior scalability and most importantly – business agility. For many organizations, it is at the core of their IT digital transformation strategy. It is a disruptive force that requires application workload behavior knowledge, careful cloud migration planning and collaboration from knowledgeable, trusted advisors.
Virtual Instruments' Cloud Migration Readiness (CMR) service provides cloud migration consulting, answering questions such as:
How do you know which application workloads to migrate and which to retain in the data center?
How do you choose the best cloud service providers for your applications?
How do you choose the optimal configurations for cloud deployment?
How do you accurately estimate costs?
How do you determine if migrated workloads are performing adequately and what can you do if they aren't?
The Cloud Migration Readiness service takes advantage of years of field experience helping the largest Global 1000 IT enterprises with infrastructure performance management and application workload analysis. Our cloud migration service experts will help de-risk your cloud migration by validating the suitability of the targeted applications based on their on-premises performance SLAs, their dependencies, the preservation of performance in the Cloud, and the estimated cost – all before migrating your actual applications to the cloud!
To successfully reduce the cloud migration complexity, right-size cloud configurations, and to validate cloud performance, CMR defines four distinct phases:
Discovery – Discover application workload characteristics and identify dependencies between compute, networking and storage elements.
Profiling – Distillation of hundreds or thousands of workloads into a small set of representative synthetic workloads that accurately characterize performance.
Playback – Accurate playback of representative synthetic workloads in the cloud to select cost-optimal configurations and placements without compromising workload performance.
Monitor – Monitor actual workloads post migration to the cloud to identify any unforeseen performance or capacity issues.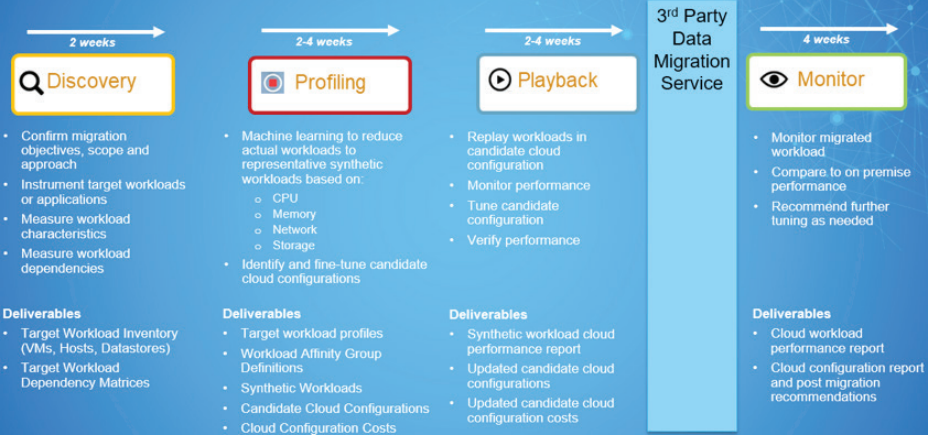 During the duration of the project the VirtualWisdom Management Appliance is used composed by: ProbeVM for virtual server metrics, ProbeNetFlow for application discovery and dependency mapping and the CMR OVA Virtual Appliance.
Virtual Instruments consultants work with your team to establish scope and timeframes, then produce a Statement of Work, which includes a pricing schedule. Pricing scales with the CMR stages included, the number of workloads to be analyzed, the number of cloud migration groups and iterations, and the length of the overall cloud migration program
The final deliverable consists of a cloud service provider comparison and their respective cloud configurations.
See also: Cloud Migration Best Practices