Reading Time:
3
minutes
Virtual Instruments is a company focused in Infrastructure Performance Management (IPM) for physical, virtual, and cloud computing environments. Their VirtualWisdom platform provides end-to-end visibility into real-time performance, health and utilization metrics from the entire systems stack and drives improved performance and availability while lowering the total cost of the infrastructure supporting mission-critical applications. Also it can be used to select the right storage technologies for each environments, optimise configurations and reduce overprovisioning, mitigate deployment risks, ensure adherence to production SLAs, move from reactive to fast, proactive troubleshooting and identify and eliminate bottlenecks to increase application performance.
I've see their solutin several years ago during the Powering the cloud events (now re-branded with a new name), but finally I got an update at last Technology Live! London 2017.
There are several changes, not only in the logo but also in the products and the solutions.
Their product VirtualWisdom is designed for customers with business and/or mission critical applications, (now not only limited for FC storage), that must be monitored both for the performance and the availability point of view. But it can now insights into the performance and availability of the end-to end system—across physical, virtual and cloud environments. It intelligently correlates and analyzes an unmatched breadth and depth of data, transforming data into answers and actionable insights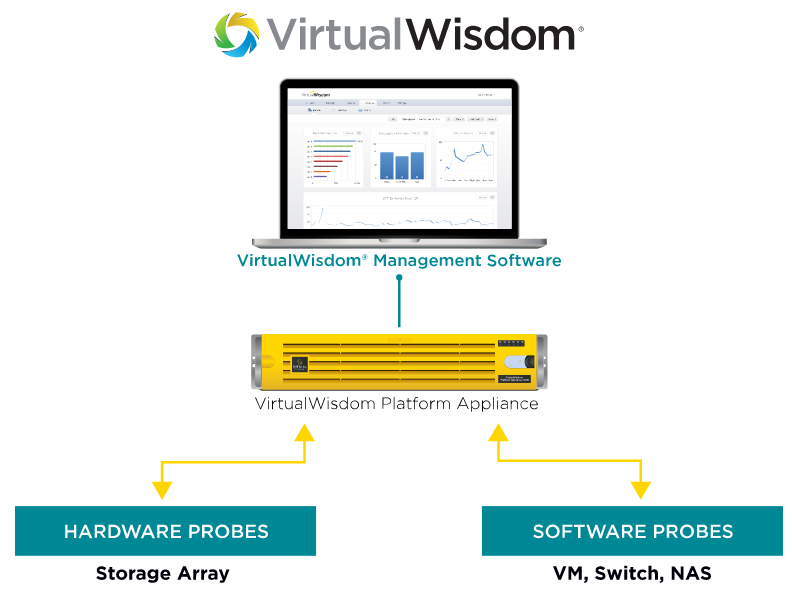 Hardware probes remain a unique capability of this solutions, and now there are not only FC probes (8 Gbps or also 16 Gbps), but also a new NAS Performance Probe 10G-16 for NAS storages!
Also VirtualWisdom introduces NTAP Storage Probe as the first of many storage array software probes that help provided additional visibility into how the storage array impacts the end-to-end system performance. ProbeNTAP is an API-based NAS storage software probe that collects and correlates health and utilization data from the underlying NAS arrays (NetApp OnTAP8 Clustered Systems).
But the most interesting news is the Xangati acquisition (in November 2016). Xangati's products enable a self-healing, self-optimizing hybrid data center, complementing Virtual Instruments' deep expertise and experience in IT infrastructure performance analytics. Together, the offerings deliver unparalleled application infrastructure performance and availability management by providing comprehensive, correlated real-time insight for any server, network interconnect or data store across the entire data center.
Virtual Instruments and Xangati address a gap in existing application and infrastructure performance monitoring approaches by providing comprehensive visibility and actionable analysis across the compute, network and storage infrastructure in the modern hybrid data center. The combination of Virtual Instruments and Xangati gives IT teams control of application performance delivery and infrastructure spend within private or public clouds on legacy or hyperconverged platforms.
See also: