Questo post è disponibile anche in: Inglese
Reading Time:
4
minutes
Nel mio incontro con Virtual Instruments, in occasione del recente evento Powering The Cloud, ho avuto modo di parlare con Skip Bacon Chief Technology Officer e Chris James Director EMEA Marketing. Avevo già avuto modo di incontrare entrambi l'anno scorso durante la precedente edizione dell'evento ed è quindi stata l'occasione per conoscere le novità di questi ultimi mesi.
Virtual Instruments è un'azienda focalizzata sugli aspetti di Infrastructure Performance Management (IPM) per ambienti fisici, virtuali e cloud (in realtà per ora si intende cloud privati). La piattaforma VirtualWisdom fornisce visibilità end-to-end e real-time delle performance, dello stato di salute e delle metriche di utilizzo dell'intero sistema.
Fondata nel giugno 2008 a partire da uno spin‐out di Finisar Corp, l'azienda ha sede a San Jose, nel cuore della Silicon Valley, ma hanno anche un ufficio in EMEA, e per la precisione a Londra. Il loro CEO (a partire da aprile 2010) John W. Thompson è stato precedentemente chairman of the board e CEO di Symantec Corporation, e prima ancora ha lavorato, in diversi ruoli, in IBM Corporation.
Rispetto all'anno scorso sono cresciuti molti stipulando anche importanti accordi OEM (inclusa EMC), ma anche con una catena di partner certificati (in Europa hanno un importante partner tedesco a Stoccarda)
La loro soluzione VirtualWisdom è pensata per quelle applicazioni business critical o mission critical, con storage di tipo FC, che devono essere monitorate sia per le prestazioni, che per la disponibilità con un'analisi analisi di tipo real-time, dalla parte fisica, fino alla parte virtuale. Il loro target è la large enterprise e in particolare il segmento  di tipo finanziario.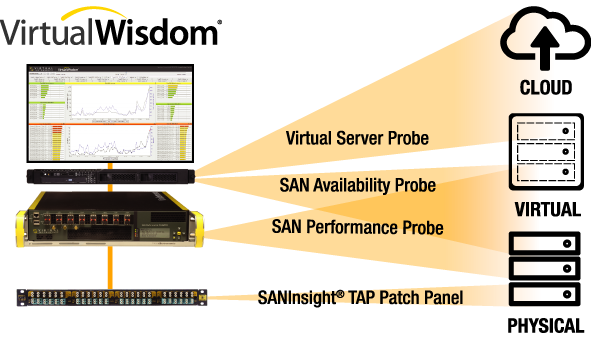 Tramite diversi "sensori", si riesce a monitorare e raccogliere numerosi tipi di dati in real-time e in modalità completamente agent-less. Il dettaglio possibile è anche di pochi minuti e ovviamente fornisce tutte le funzioni di correlazione dei dati. I differenti tipi di "sensori" sono:
Virtual Server Probe: la parte che raccoglie di dati dagli host ESXi, tramite connessione al vCenter Server. Raccoglie dati su diverse metriche, incluse CPU (utilizzo e stato), memoria (utilizzo), disk I/O (richieste e capacità), network I/O (richieste), …
SAN Availability Probe: la parte che raccoglie i dati dagli switch SAN, tramite protocollo SNMP. Sono analizzate le varie metriche di ogni porta.
SAN Performance Probe: la parte analizza ogni singolo frame header di una SAN. In questo modo può analizzare e rilevare problemi di prestazioni ricostruendo di fatto il traffico di storage.
Tra l'altro in agosto è stato rilasciato il nuovo modello di SAN Performance Probe con 48-porte (ProbeFC8-HD48) con una densità 6 volte maggiore (è un apparato 2U) ad un costo del 50% minore (a porta monitorata).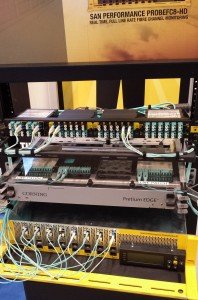 Se l'ultimo monitor è già in sé interessante (per l'approccio usato), diventa ancora più innovativa (e probabilmente unica) la soluzione per "catturare" i pacchetti FC. Si basa sul TAP Patch Panel System (TPPS) che è una componente passiva con funzioni di "sniffer" del traffico FC. Il principio è semplice e geniale: ogni singola porta FC viene sdoppiata a livello ottico, in questo modo è possibile intercettare in traffico FC, senza dover modificare la configurazione degli switch FC o senza la necessità di driver HBA particolari o agenti lato storage o server. L'aspetto interessante è che non serve sdoppiare tutte le porte FC, ma basta applicare questo strumento su tutte le porte degli storage, visto che poi tutti i pacchetti arrivano o partono da porte target. Tecnicamente questi pannelli sono pensati per catturare il traffico FC, ma in realtà catturando il traffico a livello fisico potranno essere utili per monitorare il traffico Ethernet o FCoE, nel caso di porte in fibra.
Da notare che per integrare le informazioni anche di altre tipologie di storage, stanno realizzando probe per il mondo NFS specifici per i diversi storage vendor: a breve sarà rilasciato quello per NetApp, ma sono al lavoro pure per un modello per VNX e Isilon.
Vedere anche: Altri report dell'evento Powering the Cloud 2013.