Questo post è disponibile anche in: Inglese
Reading Time:
3
minutes
Nel mio incontro con APTARE, in occasione del recente evento Powering The Cloud, ho avuto modo di parlare con Nigel Houghton, Regional Sales Manager at APTARE. Avevo già avuto modo di incontrarlo l'anno scorso durante la precedente edizione dell'evento ed è quindi stata l'occasione per chiedergli delle novità di questi ultimi mesi.
APTARE è un'azienda specializzata nell'enterprise data center optimization e fornisce soluzioni software per migliorare e massimizzare gli ambienti di storage, riducendone il TCO (total cost of ownership), pur mantenendo la garanzia che i dati critici rimangano o siano protetti.
A differenza di molte altre aziende relativamente giovani, questa ha discreta storia, dato è stata fondata nel "lontano" (informaticamente parlando) 1993. Le persone che hanno costituito l'azienda erano degli sviluppatori specializzati nella progettazione e fornitura di sistemi di database transazionali scalabili in due dimensioni: capacità e prestazioni.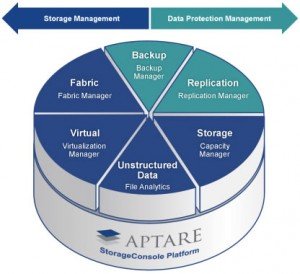 Nel 2002, si sono resi conti della necessità di uno strumento di reportistica avanzato in grado di fornire informazioni utili, ma anche dettagliate. Fu così che svilupparono il primo modulo di reporting: APTARE StorageConsole® Backup Manager. Successivamente sono stati aggiunti per costruire la APTARE® management platform suite, in grado di fornire report molto dettagliati, monitorare e gestire gli allarmi su diversi aspetti dello storage: sistemi fisici, sistemi virtuali, SAN e NAS, dati non strutturati e backup.
Più in dettaglio, la suite è composta da vari moduli in grado di analizzare:
Ad ottobre 2013 è stata annunciata la APTARE® StorageConsole® 9.0, la nuova major release della piattaforma di monitoraggio.
Questa nuova versione oltre ad essere totalmente HTML5 web based è anche specificatamente pensata per i service provider, con funzioni interne di charge-back (vedere a tale proposito il video dimostrativo).
La suite può analizzare l'infrastruttura, le prestazioni, i servizi e anche la configurazione nel dettaglio (fino ad arrivare, per esempio, alle configurazioni del multi-path di una SAN) e i clienti tipici sono nel settore finanziario & utilities dove sono richiesti rigorosi livelli di compliance e frequenti reportistiche.
In Italia hanno già un VAR e nei prossimi mesi dovrebbero pubblicare alcuni reference locali, ma ovviamente stiamo parlandi di grandi aziende.
Vedere anche: Altri report dell'evento Powering the Cloud 2013.