Questo post è disponibile anche in: Inglese
Reading Time:
3
minutes
Nel mio incontro con APTARE, durante il recente evento Powering the cloud, ho avuto modo di parlare con Nigel Houghton (Regional director of sales EMEA).
APTARE è un'azienda specializzata nell'enterprise data center optimization e fornisce soluzioni software per migliorare e massimizzare gli ambienti di storage, riducendone il TCO (total cost of ownership), pur mantenendo la garanzia che i dati critici rimangano o siano protetti.
A differenza di molte altre aziende relativamente giovani, questa ha discreta storia, dato è stata fondata nel "lontano" (informaticamente parlando) 1993. Le persone che hanno costituito l'azienda erano degli sviluppatori specializzati nella progettazione e fornitura di sistemi di database transazionali scalabili in due dimensioni: capacità e prestazioni.
La sede principale si trova a Campbell, in California, ma hanno anche un ufficio in EMEA, per la precisione a Londra.
Nel 2002, si sono resi conti della necessità di uno strumento di reportistica avanzato in grado di fornire informazioni utili, ma anche dettagliate. Fu così che svilupparono il primo modulo di reporting: APTARE StorageConsole® Backup Manager.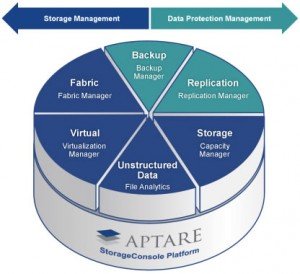 APTARE StorageConsole è oggi una suite in grado di fornire report molto dettagliati, monitorare e gestire gli allarmi su diversi aspetti dello storage: sistemi fisici, sistemi virtuali, SAN e NAS, dati non strutturati e backup.
Più in dettaglio, è composto da vari moduli in grado di analizzare:
Il data collector è completamente agent-less, e può usare differenti protocolli e/o strumenti per raccogliere questi dati.
La suite può analizzare l'infrastruttura, le prestazioni, i servizi e anche la configurazione nel dettaglio (fino ad arrivare, per esempio, alle configurazioni del multi-path di una SAN).
Inoltre è in grado di entrare molto in dettaglio dei vari dati: ad esempio, per i DBMS, è possibile vedere quale e quanto spazio è realmente usato all'interno dei database.
La struttura del prodotto è basata su un portale, con un database (Oracle, ma comunque già fornito con il prodotto). Il portale è già multi-tenant, quindi può raccogliere dati da clienti diversi (ogni singolo customer è un domain, a cui corrisponde una login). Il resto è composto da dai data collector con topologia Hub & Spoke (dove ovviamente il centro stella è il portale).
Il prodotto fornisce anche funzioni di showback e chargeback, come pure di capacity forecast. La licenza è basata per TB raw.
Vedere anche: Altri report dell'evento Powering the Cloud 2012.