Reading Time:
18
minutes
Intel® Optane™ Technology for Data Centers are a revolutionary solutions to bridge critical gaps in the storage and memory hierarchy delivering persistent memory, large memory pools, fast caching and fast storage.
Basically there are two main Intel® Optane™ DC products:
The persisten memory family is something new that deserve a dedicated post in the future.
The Intel® Optane™ Solid State Drive (SSD) family helps eliminate data center storage bottlenecks and allows bigger, more affordable data sets. It can accelerate applications, reduce transaction costs for latency-sensitive workloads, and improve overall data center TCO.
There are different type of products with different type of buses: PCI-e, U.2 or also M.2.
For example the Intel® Optane™ SSD DC P4800X Series is a 375GB, 1/2 Height PCIe* x4, 20nm, 3D XPoint™ SSD solution with incredible low latency (10 µs read and write) and high IOPS rate.
For ESXi it could be a perfect solution for HCI solutions, like a cache tier in VMware vSAN.
But you must ensure the proper firmware and driver version.
As usual the VMware HCL is your friend and provide detailed information.
For example, for the Intel® Optane™ SSD DC P4800X Series SSDPED1K375GA (375 GB, HHHL AIC):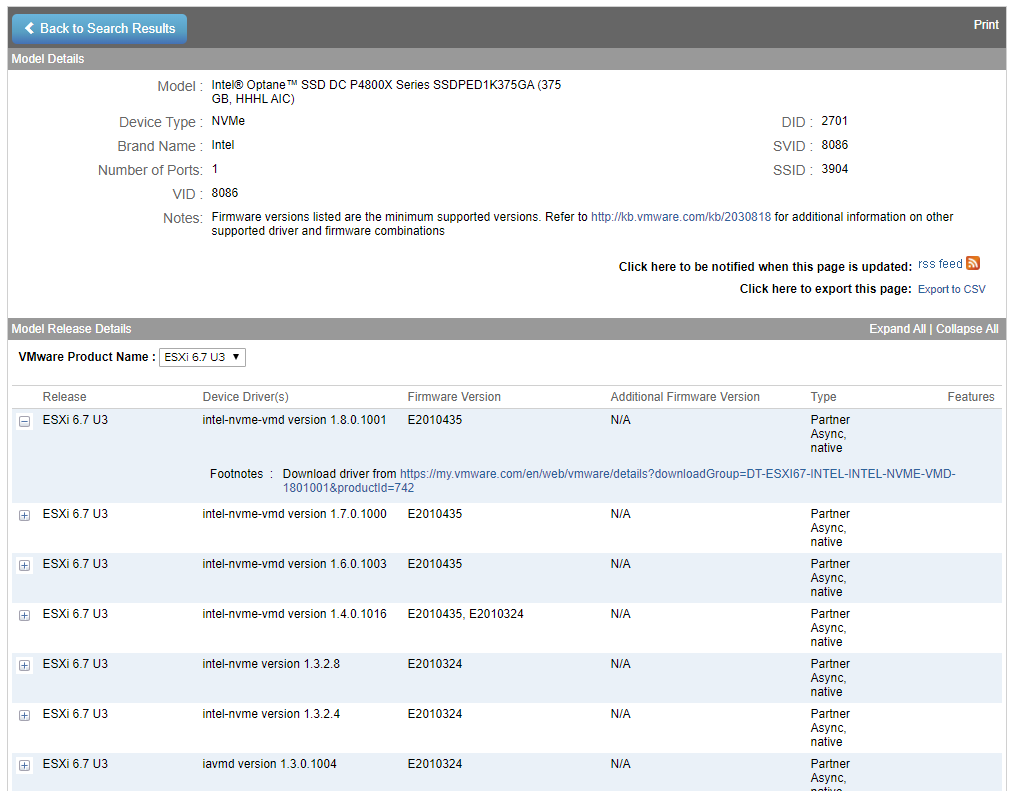 As you can notice there are specific combination of native drivers and firmware versions and you need to match both of them.
Add the correct driver is the easy part: you just download the ZIP file and and you can use the offline bundle (inside the zip file) to update your ESXi with VUM (or with the command line).
Match the firmware is little more tricky, but not too much difficult.
Intel does not provide an easy way to do this task directly from ESXi (compared on what you can do with Linux or Windows OSes installed on a physical system), but don't worry.
The Intel® SSD Firmware Update Tool provides the firmware update capabilities for the Intel® Optane™ Memory and Intel® Solid State Drives listed in Release Notes.
The Intel® Solid State Drive Firmware Update Tool comes in the form of an ISO image and requires either a completely empty USB drive or a blank CD, CD burning software, and a read/writable CD-ROM drive. The tool works outside of the operating system on the platform, so along with a Windows platform, it can also be used to update the Intel® SSD firmware on systems running Linux and Mac operating systems.
The latest version is 3.0.7 (Latest) Date: 4/19/2019 and it support all those devices:
You can download the tool from this link. Thanks Intel to don't require stupid username or password… or product registration enforcement!
The file is a single ZIP file (FirmwareUpdateTool_v3_0_7.zip) that contain an OS Independent ISO file (the file is very small, only around 70MB).
You can burn a CD or a bootable USB key and restart your ESXi with this ISO.
The upgrade process is very easy and detecy your product and if it need a firmware upgrade.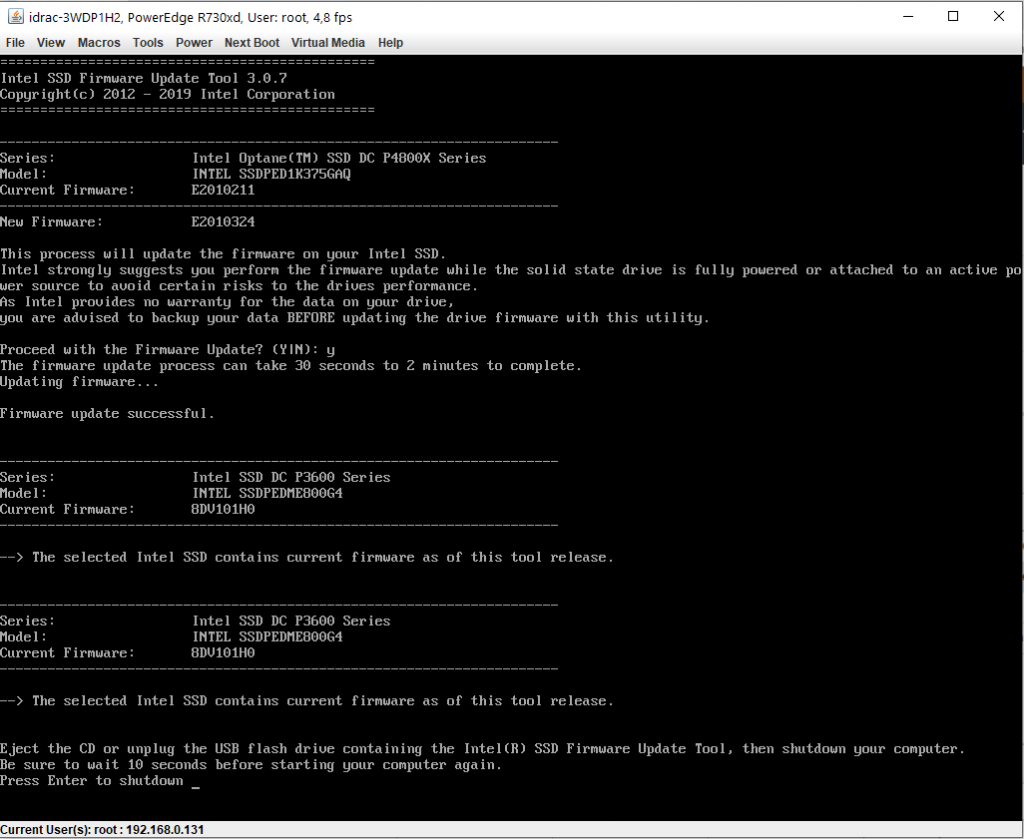 Note that you can upgrade only to the latest firmware and it's not easy to automate, but it's quite simple to use.