Reading Time:
5
minutes
Commvault platform release 2023 (11.30) is a semi-annual release and introduces new data protection capabilities to help advance customer's hybrid & multi-cloud strategies.
The release 2023 is generally available (GA) since Feb 15th, 2023.
What is a Platform Release?
Commvault platform releases (formerly called "Feature Releases") could have two different types:
Platform release with a frequency of once every six months and a lifecycle if 1 year (from the Technology Preview).
Long-term support (LTS) platform release with a frequency of once every year and a lifecycle of 3 or 5 years.
Commvault Platform
Deliver intelligent data services across Commvault enterprise software and storage offerings

Note: Metallic SaaS offerings are released separately and are not part of Commvault platform releases.
Why upgrade to the platform release 2023?
Also, if is not a Long-term support platform release, this new version includes a lot of interesting new capabilities.
First to all it gives a proper balance between the innovation requirements and the efficiency of the solution that must support on-premises, hybrid and multi-cloud scenarios (60% of all IT spending on application software will be cloud related).
It includes added enhanced data security and protection to improve security posture and to help mitigate ransomware attacks, considering that the average cost for rectifying a ransomware attack is estimated around $1.4M (Sophos: The State of Ransomware 2022).
Also included are new features to improve cost savings and operational efficiency as data grows, considering that the annual data growth reported by organizations is estimated around 35%.
Hybrid and multi-cloud features
Commvault Complete Data Protection and Commvault Disaster Recovery provides data management capabilities to support organizations' multi-cloud strategy and has several improvements for cloud environments:
Google Cloud regional snapshot support.

Protect data sovereignty by keeping snapshots within the same region.

30% Cost savings with single region snapshots compared to multi-region offerings.
Prior to Oct 1, 2022, pricing for Regional and Multi-Regional snapshots was the same. After that date, multi-regional snapshots increased in cost by a larger amount than did regional snapshots.

Enhanced Data Protection for Azure with Azure Restore Points.

Provide application-level consistency with easier & more complete recoverability.

Reduce costs for protecting Azure VMs by utilizing lower cost storage for Restore Point Collections.

Commvault is the first partner to develop this capability with Microsoft, through a Microsoft-provided API.

Azure database backup and restore using DacFx.
Amazon VPC Protection.
Oracle Compute Infrastructure (OCI) Storage tiering.

Extends storage options with multiple tiers of storage to help reduce costs on storage.

Enabled advanced security & configuration options inside of OCI.

Oracle Compute Infrastructure (OCI) VM protection

Provides enhanced protection for compute workloads.

Provides parity for compute (VM) protection.
The most interesting and unique is the OCI support. Actually, only few data protection products fully support OCI offering (for example storage is not a 100% S3 compatible storage) and still is interesting for several Oracle's customers.
Security features
Commvault Complete Data Protection and Commvault Disaster Recovery includes enhanced data security and protection to improve security posture and help mitigate ransomware attacks:
Enhanced Security Integrations with Security information and event management (SIEM) platforms.

Easily allow exporting of data sets across platforms via frameworks using standard protocols and APIs.

Broad support for virtually any SIEM or Event management platform.

Stream alerts, audit, and events to a third party SIEM or Event management system using Webhooks or Syslog.

Compliance Lock – Protect critical data with immutable storage.

Easily create immutable storage via Compliance lock and WORM storage controls from Command Center.

Remain compliant with industry regulations including SEC Rule 17a(f) and FINRA 4511(c).

Integrate Multi-Person Authentication (MPA) to increase platform security & prevent destructive attacks.
Commvault HyperScale X includes:
New security enhancements & certifications help improve security posture and compliance.

Centralized Update Management simplifies upgrades & security patches.

Immutable storage certifications for SEC Rule 17a(f) and FINRA 4511(c) supports your compliance requirements.
SIEM integration is probably the most innovative and required feature because interoperability with event management systems and security platforms is crucial for establishing stickiness and extrinsic value for every data protection solution.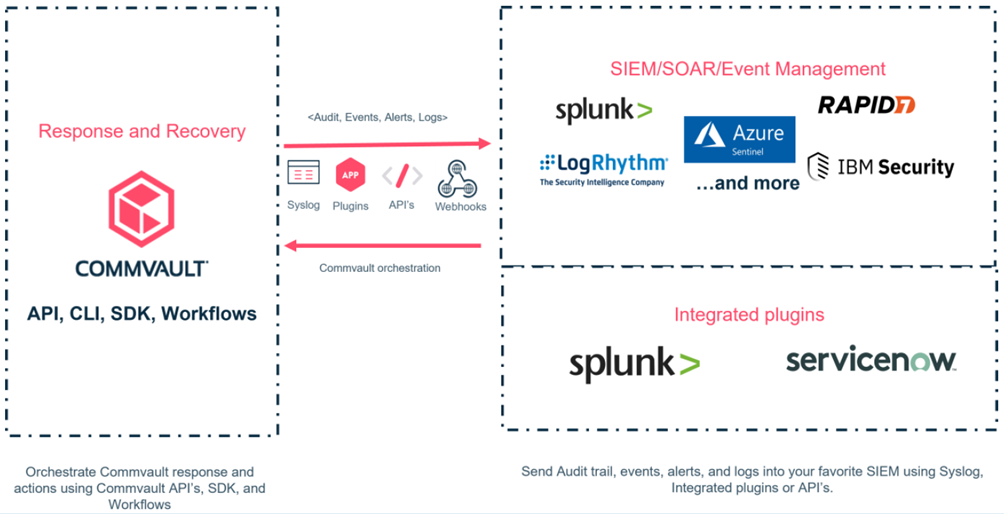 Cost optimization and other integration features
Increased cost savings and operational efficiency to address data growth and IT cost optimization challenges, including new type of workloads and applications and infrastructure.
With Commvault Complete Data Protection and Commvault Disaster Recovery is possible support Azure DevOps:
New Data Protection support for DevOps Protection.

Full-service protection for Azure DevOps, back administrators, & development teams.

Includes coverage for repos, pipelines, boards, test plans, and artifacts.
With Commvault Complete Data Protection and Commvault Disaster Recovery also Big Data and Amazon FSx can be addressed properly:
Improved backup times for Hadoop File Systems (HDFS).

Leveraging HDFS snapshots significantly reduce scan times for backups.

Reduces the compute time compute time on Hadoop clusters.

Deep support for NetApp-AWS combination, bringing the on-prem NetApp experience to the cloud.

Accelerates application migration to the cloud.

Ensures policy-based protection of your hybrid NetApp ONTAP data landscape, using Commvault IntelliSnap.

Provides low-RTO application consistent recovery for your NetApp data located on Amazon FSx.
This new version add some unique capabilities like a comprehensive support for the different cloud services (not only the Big3), interesting verticals like the DevOps Protection or the BigData world, all with an high attention to security and compliance aspects.