This post is also available in: Italian
Reading Time:
4
minutes
As written, VMware has announced and released the new VMware View 5.1 version with several improvements.
One difference is that in this version the upgrade path is a little more complicated compared to previous upgrade procedures (see VMware View 5.0.1 upgrade path and Upgrade path to vSphere 5 – The View 5 part) due to some changes and a limited compatibility matrix!
As you can notice, new VMware Connection Servers can "talk" with old (5.0 and 4.6) Connection Servers, Agents, but only during the upgrade phase. Also new Connection Servers could not work with old Composer or Tranfer Servers.
This means that during an upgrade to View 5.1, View does not support View Composer provisioning and maintenance operations, local mode operations, or View Transfer Server publish operations. Operations such as provisioning and recomposing linked-clone desktops, checking out or checking in desktops, and publishing View Composer base images are not supported during the transitional period when any View servers are still running the earlier version. You can successfully perform these operations only when all instances of View Connection Server, View Composer, and View Transfer Server have been upgraded to View 5.1.
The entire procedure is well explained in the Upgrade Guide (VMware View Upgrade Overview) and will be described in the next post. But you must consider some important aspects before begin this operation.
Hardware requirements
They are quite the same of 5.0 version. So probably are already satisfied.
Secure Server upgrade
For the secure servers, starting from version 5.1, before begin the upgrade you must remove the current IPsec rules that govern communication between the security server and its paired View Connection Server instance. If you do not take this step, the upgrade or reinstallation fails (for more information see: Prepare to Upgrade or Reinstall a Security Server). If you remove the IPsec rules for an active security server, all communication with the security server is lost until you upgrade or reinstall the security server.
This will probably affect future upgrade paths.
Note that Before View 5.1, you could remove security server in View Administrator or with the vdmadmin -S command. In View 5.1 and later releases, you can only use vdmadmin -S.
Composer upgrade
If your current version of View Composer is installed on a computer with a Windows Server 2003 operating system, see the procedure called "Manually Migrate View Composer to the New Machine" in the VMware View 4.6 Upgrade Guide. After you migrate View Composer 2.6 to a system with a Windows Server 2008 R2 operating system, you can perform an in-place upgrade to View Composer 3.0.
To migrate View Composer 3.0 to a different physical or virtual machine, see Migrate View Composer to Another Computer. Consider also that it can be deployed on a different machined than the vCenter Server (but of course not on a Domain Controller or a View Connection Server).
Certificates validity
Starting from this version certificates are used for mandatory SSL connections also between the Connection Servers and vCenter Server and Composer. Although you may still use self-signed certificates (not sure if in the future will be still supported), you may plan to adopt valid certificates.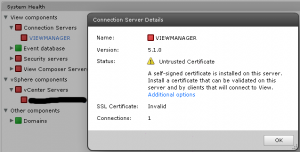 Certificates for vCenter Server, View Composer, and View servers must include certificate revocation lists (CRLs). For more information, see "Configuring Certificate Revocation Checking on Server Certificates" in the VMware View Installation Guide.
Note also that is still possible disable the certificate control on the client side (see VMware View 5 – Disable the certificate warning).