Questo post è disponibile anche in: Inglese
Reading Time:
4
minutes
Come scritto in precedenza, VMware ha annunciato e rilasciato (qualche settimana fa) la nuova version di VMware View (la 5.1) che include varie migliorie.
Una delle novità, che salta all'occhio leggendo la documentazione, è che il percorso di aggiornamento è diventato leggermente più complicato (ma per fortuna non così complicato come lo era durante la beta del prodotto) rispetto ai percorsi delle versioni o patch precedenti (vedere VMware View 5.0.1 upgrade path e Upgrade path to vSphere 5 – The View 5 part). Non è chiaro se è una strada scelta anche per nuove versioni o se è dovuta alla riorganizzazione di questo prodotto. Ma il risultato finale è una compatibility matrix veramente limitata!
Come si può notare, i nuovi VMware View Connection Server possono "parlare" con i vecchi (solo 5.0 o 4.6) Connection Server e Agent, ma questo è supportato solo durante l'aggiornamento e con varie limitazioni. Inoltre i nuovi Connection Server non possono "parlare" con i vecchi Composer e Tranfer Server.
Questo implica che durante l'upgrade a View 5.1, non sarà possibile effettuare operazioni legate al View Composer o operazioni di local mode che implichino il View Transfer Server:
Operations such as provisioning and recomposing linked-clone desktops, checking out or checking in desktops, and publishing View Composer base images are not supported during the transitional period when any View servers are still running the earlier version. You can successfully perform these operations only when all instances of View Connection Server, View Composer, and View Transfer Server have been upgraded to View 5.1.
L'intera procedura è spiegata in modo completo nell'Upgrade Guide (VMware View Upgrade Overview) e verrà trattata nel prossimo post. Ma è importate fare alcune considerazioni prima di iniziare la procedura di aggiornamento.
Hardware requirements
I requisiti sono rimasti praticamente gli stessi della versione 5.0. Quindi in linea di massima dovrebbero essere già soddisfatti.
Secure Server upgrade
Per i secure server, dalla versione 5.1, la procedura di aggiornamento richiede un'operazione preventiva particolare: rimuovere la regola IPsec che definisce la connessione tra il security server e il suo View Connection Server. Per maggiori informazioni vedere Prepare to Upgrade or Reinstall a Security Server.
Questo riguarderà più gli aggiornamenti a versioni future, ma è opportuno evidenziarlo fin da ora.
Notare che, prima di View 5.1, era possibile rimuovere un security server da View Administrator o con il comando vdmadmin -S. Da View 5.1 in poi solo con il comando vdmadmin -S.
Composer upgrade
Se l'attuale View Composer è installato su un sistema operativo Windows Server 2003 bisogna prima migrarlo su Windows Server 2008 R2 seguendo la procedura "Manually Migrate View Composer to the New Machine" descritta nel VMware View 4.6 Upgrade Guide. A questo punto sarà possibile gestire l'upgrade a View Composer 3.0.
Per migrare View Composer 3.0 su un'altro sistema (fisico o virtuale) seguire la procedura Migrate View Composer to Another Computer. Notare che da questa versione il Composer può essere installato anche in un sistema stand-alone e non per forza insieme ad il vCenter Server.
Certificates validity
A partire da questa versione tutte le connessioni tra Connection Server, vCenter Server e Composer sono tramite SSL e richiedono quindi dei certificati. Benché sia possibile usare ancora certificati self-signed, non è chiaro se saranno supportati anche in versioni future e comunque pianificarli usando CA (interna od esterna) permetterà di semplificarne la gestione oltre che ad evitare segnalazioni nella dashboard.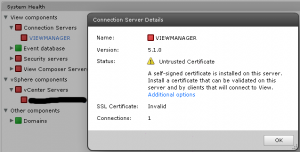 Notare che i certificati per vCenter Server, View Composer, e View server devono includere la certificate revocation lists (CRLs). Per maggiori informazioni vedere "Configuring Certificate Revocation Checking on Server Certificates" nella VMware View Installation Guide. Rimane inoltre ancora valido (per ora) il metodo per disabilitare il controllo dei client (VMware View 5 – Disabilitare il controllo dei certificati).