This post is also available in: Italian
Reading Time:
7
minutes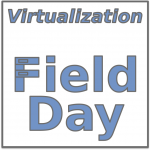 During the first day of the third edition of Virtualization Field Day (#VFD3) the first company that we (as delegates) met was CloudPhysics, and was really a great way to start the #VFD3.
CloudPhysics helps systems administrators make smart, data-driven decisions. Their groundbreaking SaaS platform brings Big Data analytics to your virtualized datacenter, generating fresh operational insights that you can act on with certainty.
Big Data technology is used by companies across numerous industries to discover new ways to improve operations. Ironically, one industry that is missing from the list is IT itself. CloudPhysics goal is to bring the power of Big Data analytics to every datacenter, capturing data about virtualized infrastructure, analyzing it, and providing unique insights that help IT teams make smarter data-driven operational decisions. Today, our idea is coming to fruition as hundreds of customers and users deploy our SaaS app.
The agenda was really interesting with people that really know the problems and the solutions that are describing:
Why CloudPhysics? John Blumenthal, CEO and founder, provides an intro to Silicon Valley startup CloudPhysics, who brings a fresh, SaaS-based approach to virtualization management, combining Big Data science, patent-pending datacenter simulation and modeling, and resource management techniques to deliver actionable analytics for better managing the virtual datacenter.
CloudPhysics DeepDive: Irfan Ahmad (@virtualirfan), CTO and founder, explains their unique approach to virtualization management. Leveraging a daily stream of 120+ billion samples of configuration, performance, failure and event data from its global user base, and utilizing patent-pending datacenter simulation and unique resource management techniques, CloudPhysics empowers enterprise IT to drive Google-like operations excellence using actionable analytics from a large, relevant, continually refreshed data set.
CloudPhysics Demo in different common scenarios: Krishna Raj Raja (@esxtopGuru) gives a live demo of how to use CloudPhysics to pinpoint hidden operational hazards in VMware vSphere environments.
As you can notice the people behind Cloud Physics are really a great team, that include also other relevant people (like, for example, Carl Waldspurger that was principal engineer at VMware and responsible for core resource management and virtualization technologies).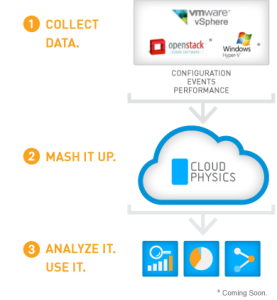 As written CloudPhysics is a SaaS solution, really easy to deploy: download and deploy the Observer vApp OVA, power on it and configure it, and your are ready to use CloudPhysics. In only few minutes you're ready to uploading metrics to CloudPhysics to be processed and begin providing feedback.
It's really a big data analytics problem: a single datacenter with 500 VMs and 500 servers may produces around 1 Billion Data Points (25Gb of data). Considering that CloudPhysics storage all those data (securely and in an anonymized form) in their systems, is clear that they have designed an environment for major scale and can host billions and billions of data points.
There isn't a on-prem solution or version: only SaaS in order to be able to keep simple (from the user side), always up-to-date and share the engine and the collective intelligence across all the different tenants.
CloudPhysics define its solution like the Google for the (dynamic) datacenters: it helps to understand the data and the interaction between them by giving clear answers to simple questions (like how much VM can I add to my infrastructure?). The analytics  techniques and problems are similar compared to Google search engine, but the number of required results is (and must be) limited.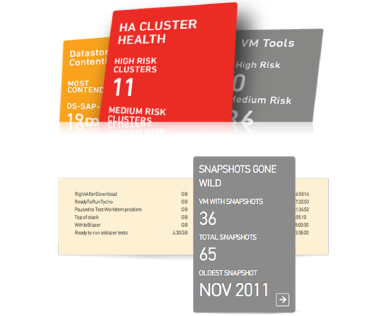 To make it easy and able to bring immediate results, the entere interface is based on Cards (similar to badges, but with more informations).
Basically a Card is an app – a slice of systems data and analytics, packaged together as a unit for you to interact with. There are lot of ready-made CloudPhysics Cards – like Snapshots Gone Wild, Datastore Contention, HA Simulation, and dozens more – provide insights instantly.
But you can also create and share your own Cards, or visit the Card Store to install Cards made by the community or other vendors.
When you first log in to CloudPhysics, you'll land in your personal dashboard, called the Deck, where you will see the CloudPhysics-made Cards that are available to you based on the edition you're subscribed to.
You can organize Cards how you want and even create new Decks with their own names with specific Cards in them. Cards can be added to your Deck from the Card Store or from Card Builder.
Card Builder is where you can create your own Cards. The nice aspect is that you don't have to have to worry about writing scripts or learning the VMware APIs. With Card Builder, you can click your way to deep insights. As you dig down to specific cluster, datastores, or properties of objects in your vSphere environment—we automatically correlate those objects and let you apply filters to get you down to exactly what you're looking for. Many users use this capability to do ad hoc root cause analysis and use the Card Builder as a troubleshooting tool.
More interesting is the Card Store, where you can find new Cards to add to your deck that are made by other users in your organization, by CloudPhysics, by other members our Community, or by third parties like storage companies. It lets you share in the wealth of knowledge and expertise created by Community members just like you! The Card Store is really like an App Store, with the same power, flexibility and able to reach lot of people.
The different demos where really useful, because based on different scenarios and were a good example on how gain answers to common questions:
Finding VMware vSphere operational Hazards before they find you
Troubleshooting storage performance and configuration issues
SSD cost/performance analytics using CloudPhysics
All of them are a must to also understand the approach on the resolution of those scenarios.
I've really appreciated the last one on SSD because are (becoming) really common: many IT teams are considering SSDs to improve datacenter performance but there are different approaches and sizing trade-off. The demo has explain how CloudPhysics Cache Benefits Analysis helps IT teams to understand how SSD can deliver performance advantages in their particular datacenter.
For more information see also:
Disclaimer: I've been invited to this event by Gestalt IT and they will paid for accommodation and travels, but I'm not compensated for my time and I'm not obliged to blog. Furthermore, the content is not reviewed, approved or published by any other person than me.