This post is also available in: Italian
Reading Time:
6
minutes
Dell has just announced the new generation of PowerEdge servers: the Dell PowerEdge 13th generation server portfolio features customer-inspired engineering built to optimize price performance for the widest range of web, enterprise and hyperscale applications, and features state-of-the-art advancements in storage, processing and memory technology coupled with industry leading systems management capabilities.
The first wave of the new Dell PowerEdge servers includes the PowerEdge R730xd, R730, and R630 rack servers, the M630 blade server, and the T630 tower server, which are built with the latest Intel Xeon E5-2600v3 processors. Combined with Dell's end-to-end portfolio of enterprise infrastructure offerings, software and services, the new PowerEdge servers enable increased levels of operational efficiency and flexibility at any scale for the most demanding applications and environments.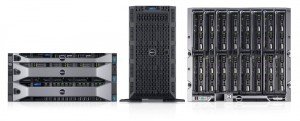 The new Dell PowerEdge portfolio – which begins with five form-factors across blade, rack and tower servers – provides customers with choice in how they address industry trends including cloud computing, mobility, big data, and software-defined.
As you probably know each PowerEdge Server in uniquely identify with some letters/digits:
First is a letter that define the form factor (actually T for Tower, R for rack and M for modular, but new form factor could be added in the future)
Second is a digit that define the "power" of the server (greater is more powerful or more scalable)
Third is a digit that define the generation (for 13th generation will be 3)
The last one is a digit that define the CPU architecture (0 for Intel Xeon and 5 for AMD)
There can be more characters (like in the R730xd model) to specify some special features (in this case a huge amount of disks). So in this first wave only some mid-size Intel server will be available (but they are the mostly used in virtualization projects).
Also note that there are other specific servers in Dell's portfolio, like the Dell PowerEdge Cloud series and the Dell VRTX (modular blades must be developed for VRTX, so we have to expect a specific version of M630): both are not only a server platform but something more complete. The EVO:Rail version from Dell is not yet announced, but I suppose that probably will be based on a modified version of the Dell PowerEdge Cloud series.
The new Intel Xeon processor family is not the only big news for this new generation: one is the adoption of the new 1.8-inch SATA flash drives (the 1.8 form factor for disks was introducted, for the first time, in the very small M420 series) that can give more flexibility and IOPS per servers. For example, with cost effective 1.8-inch SATA flash drives, the Dell PowerEdge R630 can deliver to customers 2.4 times the input/output operations per second (IOPS) in the same amount of space as 2.5" SSD's.
The new R730 can give a lot of storage flexibility both in the normal (R730) and in the disk-dense (R730xd) version. For example with the PowerEdge R730xd, Dell also provides up to 100TB of storage of Microsoft Exchange, delivers a 33 percent increase in the number of users over previous generation.
The new in-server storage technology allows customers to:
Accelerate the most important data by offering high performance with NVMe Express Flash storage and deployment of Dell Fluid Cache for SAN and Dell Fluid Cache for DAS.
Zone large datasets by doubling the RAID performance with optional dual PERC9 controllers.
Support software defined storage and optimized data placement by providing hybrid storage configurations within the compute node that enable tiering capabilities
Dell also has introduced direct-attached storage offerings specifically developed for the new PowerEdge servers. The new Dell Storage MD1400 and MD1420 offer affordable storage expansion, double the bandwidth and improved performance compared to the previous generation, data security with self-encrypting-drives (SEDs), and seamless data management between the server and storage enclosure.
Also the usage of the PERC9 controller sounds interesting: already the PERC8 controller used on the VRTX family has some interesting functions like the sharing capabilities and also the dual controller redoundancy. Will be both functions, or at least the last one, available? Let's see.
And there will be also some important news on the management side: OpenManage Mobile (announced in the the past Dell Enterprise Forum) enables administrators to monitor and manage their environments anytime, anywhere with their mobile device. But most news are on the new iDRAC features in order to simplify and improve manageability of PowerEdge servers:
iDRAC QuickSync, using Near Field Communication (NFC), an industry first, to enable its customers' mobile workforce. For the 60 percent of customers managing at-the-box, this new capability transmits server health information and basic server setup via a hand-held smart device running OpenManage Mobile, simply by tapping it at the server.
iDRAC Direct, using USB stick to upgrade drivers (was already possible, but not so easy and simple) or upload configurations.
iDRAC Automatic Configuration, using a central repository for the configurations and XML files to configure all your systems.
Automatic updates, using a central repository to handle the upgrade of all your firmware (today was already possible with M1000e and VRTX through their CMC modules).
Dell's Zero-Touch Repository Manager and auto-updates reduce firmware updating time by 92 percent.
For more information see also: