This post is also available in: Italian
Reading Time:
5
minutes
3CX is a company, founded in 2006 by Nick Galea, with a simple and clear scope: build a software PBX for Microsoft Windows platform. Could be a strange choice, considering that most of PBX are based on Linux (and there are also a lot of distributions or virtual appliance already targeted for the PBX and VoIP world), but the company as grow in those years.
They develop 3CX Phone System, the software-based PBX for Microsoft Windows which not only replaces proprietary phone systems, but it also delivers a complete Unified Communications solution. And it's also an open standard software based IP PBX which can be integrated with other applications running on Windows.
By maintaining a global presence with fifteen offices worldwide including the US, the UK, Germany, France, Japan, Russia, South Africa, Australia, Hong Kong and more as well as fully localized websites available in German, Spanish, French, Italian, Russian, Dutch, Polish, Japanese and many other languages, 3CX is able to accommodate companies' telecommunications needs all over the globe.
And the products list has also growed in the time, including not only the 3CX Phone System for Windows for on-premises implementation and a 3CX Cloud Server(formerly called 3CX Phone System Multi Tenant) for cloud providers, but other interesting products, like 3CX WebMeeting.
3CX Phone System for Windows works with SIP standard based IP Phones (here a list of all supported phones), SIP trunks (here a list of certified providers) and VoIP Gateways (here a list of supported gateway) to provide a full PBX solution and is actually used by more than 30,000 companies globally.
It can work with standard VoIP phones, or also with soft-phones (compatible with SIP protocols) and, of course, there are specific clients for different systems, including 3CXPhone for Windows, 3CXPhone for Mac, 3CXPhone for iPhone and 3CXPhone for Android.
Other type of soft-phones may also works, but of course with the native client you will have more integration.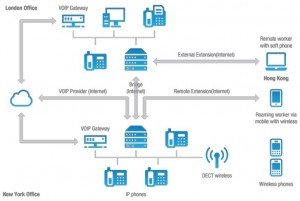 It can be used in different user cases and in different deployment scenarios, according with customer needs and requirements.
You can have a single office (or maybe also a domestic installation) with a single site with a VoIP gateway for the external SIP traffic (potentially you can use this product also only for internal communication, but the most interesting usage is with an integreation to the PSTN network). Considering that several Internet access prodiver may also provide a VoIP traffic you don't really an own VoIP gateway, but you can use the one from the provider.
You can have internal extension, but also external extension that work directly from the Internet (with an interesting solution for "tunnel" all the traffic in a single port).
And of course, you can have more offices or branch offices that are all connected with external VoIP gateway (on the PSTN lines) or external VoIP provider or also "internally" using IP connectivity in order to connect two or more 3CX  IP Phone Systems.
There are three different type of licensing: Free, Standard and Pro (for a full features comparison you see this page) and all support an unlimited number of extensions (free edition is limited to only two simultaneous calls and of couse in other features that are missing). You can simple dowload the trial product that is mainly the free edition. All product guides are available both online or from the download site (in PDF format).
Actually it can be install on physical systems (also on Atom based motherboard, that can make possible build VoIP "appliances" with low cost and small systems) but also in a virtual environment, considering that it's certified to run on VMware vSphere (from vSphere 5.x and above) or Microsoft HyperV (2008 R2 and above).
Note that there isn't a VA (Virtual Appliance) ready to use… the installation does not differ from physical to virtual: you have first to prepare a Windows system and then install and configure the software.
Note also that the HyperV VM running 3CX Phone System requires specific settings in order to be sure that the MAC address remain static (for more information see this link).
For the operating system several are supported, included client version of Windows. From NT 6.1 (Windows 7 and Windows Server 2008 R2) almost are supported, but installations on Microsoft Windows server Core versions is not supported.
Windows emebbeded or Windows Storage Server are not listed, but I guess that it can work without big issues and can be interesting to build customized appliances.
The product seems really mature, the documentation is well done and both the products and the documents are available in different languages!
And there is also a free 3CX Certification program designed to boost 3CX Partners' profitability by giving them the resources and knowledge they need to sell, deploy and support 3CX Phone System for Windows. The 3CX Academy program has two certification levels – 3CX Certified Engineer and 3CX Advanced Certified Engineer.
In the next post I will go ahead in the following aspects:
3CX Phone System – Configuration
3CX Phone System – Usage
Disclaimer: 3CX was a recurring sponsor on my blog, but I'm not obliged to blog. Furthermore, the content is not reviewed, approved or published by any other person than me.