This post is also available in: Italian
Reading Time:
5
minutes
In the previous posts I've describe what is 3CX Phone System, how install it and how configure it. Now it's the turn on how use it thought VoIP phones or soft-phones.
One plus of this product is the provision part for all the IP phones. Soft-phone provision is really powerful, because you will receive an email with a simple config file. By double click on it you will have your extension ready to run!
I found the Windows version really powerful and useful, more than the apps for iOS or Android: for example the android application have some minor bug (at least on an S5 phone), like the presence that works, but you cannot change the status.
Of course also a generic soft-phone can work (for example Android has a native SIP client), but using the 3CX client will bring you all the features of the product.
Also 3CXPhone for Windows allows you to control your Desk Phone from your PC desktop: when 3CXPhone is controlling your Desk Phone it is in Desk Phone (CTI) mode. The following actions can be remotely performed on deskphones:
Initiate calls with a mouse click – no retyping of phone number.
Easy call transfer.
Create conference calls with a few mouse clicks.
Otherwise, when you are using SoftPhone mode all calls will be made to and from the 3CXPhone client itself. Audio will pass via the detected audio driver configured in 3CXPhone for Windows or the default Windows Audio device driver used for recording or playback. Hardware headset integration is available only when using 3CXPhone for Windows in softphone mode.
If the VoIP part is similar to other products, what is really powerful of this solution in the set of featuresincluded in the product. Like the presence that it's fully integrated in the 3CX client and could be really powerfull if you don't have this feature in your company.
Also voice message integration is quite comple: when you create an extension you have all set for it. If you refuse a call (or if you don answer in a specific time), the voice system will let your caller to leave a message. Messages notification is really powerful inside the client and simple to use: you will notice a blu envelope that mean any pending messages. The only aspect that could be improved is the way to listen at voice message that could be (IMHO) more integrated.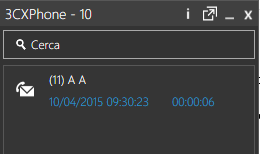 Another aspect that it's almost unique, or at least that it's well integrated with the clients, is the external phone: you can work on Internet and use a tunnel to still work with your PBX. There are different options in order to have a working configuration, but the simplest way is use the 3CXTunnel:
This is available in all 3CX clients and require only a limited configuration in firewall and NAT rules. And it's simple to use (client will automatically try di find if is connected in office or outside it). Of course you can resolve also with VPN connectiona, but have this feature integrate in the product make it really simple to use.
And generally all the phone provisioning (also for supported IP phone) and management is really powerful in this product with a complete control over them:
And what about other phones? If you have NON IP phone the only way is going with some adapters. In most case a PSTN gateway can have some FXO port usable for traditional phone (or FAX device) and this is the simples solution. Otherwise there are also some VoIP adapter to tranform a normal phone in an IP phone, but IMHO this could be more costly (unless you have only few phone that need to be adapt) and challeinging for the configuration.
Another feature that could be really interesting is the integration with Skype… but in this case the documentation does not help too much, also because there were different options in the previous versions. With version 12.5 seems that it's only possible with Skype for Business. For more information see this blog post.
For more information see also:
Disclaimer: 3CX was a recurring sponsor on my blog, but I'm not obliged to blog. Furthermore, the content is not reviewed, approved or published by any other person than me.