This post is also available in: Italian
Reading Time:
3
minutes
As written in a previous post, during this days I'm attending at the Nutanix .NEXT Conference where several big announces have been revealed during the first keynote.
Really a lot, that I will need more to fix and digest them. Most of them are listed in the press release.
New product, new software, an integrated scale out file server, … make it simple and make it invisible were the main themes for the new infrastructures.
About the software part there is a split of the products. Considering only the software part (the hardware part is mainly standard x86 server build by SuperMicro or Dell) Nutanix is moving from one single software product to two different products:
Nutanix Acropolis: a new modules that provide all core functions for computing, storage and management
Nutanix Prism: mainly is the Nutanix UI that become not only easy (as it was before), but more rich infrastructure management, operational analytics (also for troubleshooting purpose) and remediation.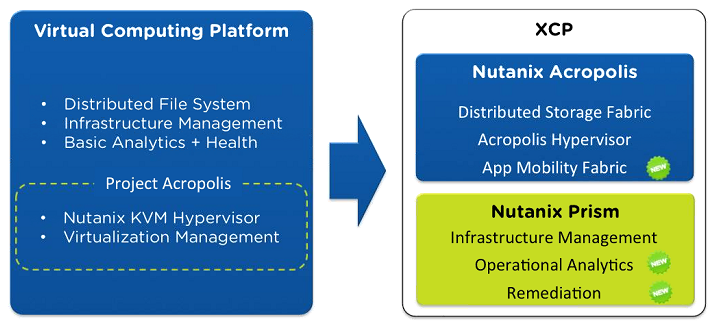 The new Nutanix Platform is called Nutanix Xtreme Computing Platform (XCP) that combine the two different projects. Actually the Commuinity Edition is mainly the Acropolis part (with some limitation on the number of nodes).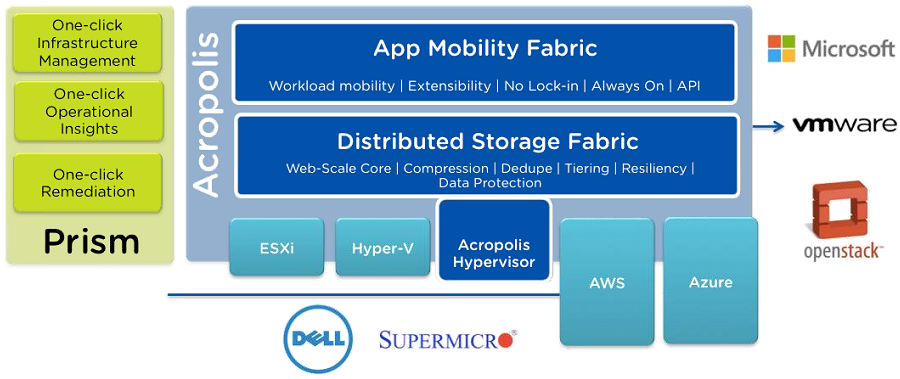 Nutanix Acropolis is build by three different main components:
Acropolis Hypervisor: that is not a new hypervisor, but just the default one (and one of the 3 supported hypervisors) build around Linux KVM
Distributed Storage Fabric: the Nutanix core based on the distributed file system in order to implement the web-scale concepts and provide all the low-level data services like compression, deduplication, tiering, resiliency and data protection
App Mobility Fabric: that will implement several high level functions, like VM placements, VM mobility, migration and conversion, integrated DR and HA, support for a wide range of VM-based apps and rich API for integration with 3rd part software
The last layer will also permit in the future a seamless path to container-based technologies. But for now the main interested remain in the VM with the big advantage of VM migration also across different hypervisor using the Acropolis features (of course VMs need a conversion and for this reason the cross-hypervisor migration is not a hot migration).
Nutanix Acropolis will available as a public beta and open to all of the Community Edition. Nutanix Prism will coming out in Q4 2015 (will all the new functions). Nutanix scale out file server will coming in Q4.
For more information see also: