Reading Time:
3
minutes
Veeam Agent for Microsoft Windows 2.0 has been released on May 2017, and now there is a new version available: v2.1.
Veeam Agent for Microsoft Windows is built on the extremely successful Veeam Endpoint Backup™ FREE and includes two brand new editions — Workstation and Server — with additional features designed to ensure the Availability of your Windows workloads by providing backup and recovery for physical and cloud-based workloads, as well as endpoint devices that belong to remote users.
There are a lot of improvements and new features for this new version.
Veeam Agent 
for Microsoft Windows
 2.1 FULLY integrates with
Veeam Backup & Replication 9.5 Update 3
allowing users to deploy, control and manage the protection of Windows-based laptops, desktops, mission critical server applications and cloud instances through a single console. Integration with Veeam Backup & Replication provides users with:
Automated host discovery and agent deployment. Veeam Backup & Replication delivers a powerful and simple way to discover new workloads and then later automatically deploy backup agents through Protection Groups.
Windows Server Failover Cluster support. Protect your mission critical Microsoft Windows Server failover clusters, including SQL Server failover clusters and SQL Server AlwaysOn Availability Groups in a transactionally-consistent fashion — and leverage the full power of Veeam granular recovery technologies for guest file and application item recoveries.
Multiple backup jobs. Backup servers can now create and manage multiple backup jobs for Microsoft Windows backup agents.
Direct back up to Microsoft OneDrive. Veeam Agent for Microsoft Windows provides a fully integrated and secure way to use Microsoft OneDrive (both Personal and Business) as a backup target for Workstation agents — including support for bare metal recovery directly from OneDrive.
As introduced in v2.0 there are different editions for Veeam Agent, with different features.
The new OneDrive option for the target is very interesting: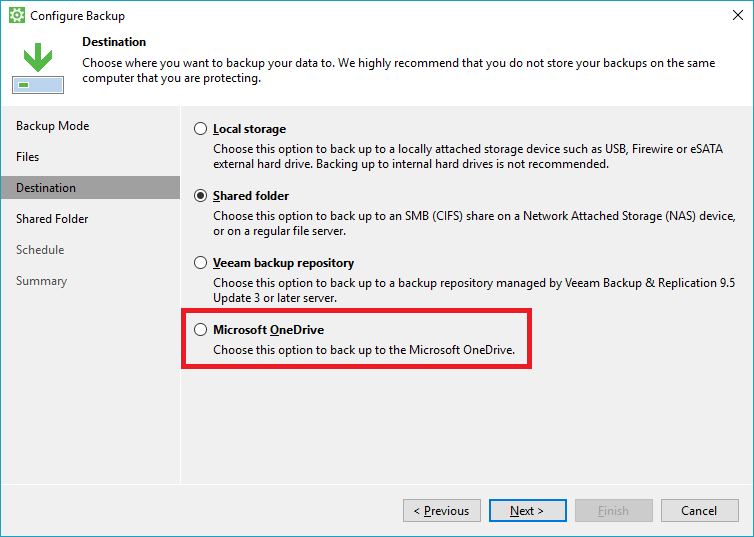 But note that support for OneDrive is limited to system state backup in the Free edition. With other editions you can backup all files.
Another interesting feature for the Server edition is an optional Changed Block Tracking (CBT) driver to improve backup performance and decrease the backup window for server workloads comparing to the existing driver-less change tracking, allowing users to meet more stringent business requirements for mission critical applications and high transactional workloads. Using CBT driver is recommended for servers running applications that use large database files, such as Microsoft SQL Server and Microsoft Exchange.
After the upgrade or a new installation the new build will be 2.1.0.423