Reading Time:
4
minutes
Big Switch Networks announced that Big Cloud Fabric (BCF) now supports a robust ecosystem of the leading hyperconverged (HCI) solutions, including: VMware vSAN, Dell EMC ScaleIO, and Nutanix.
Big Switch Networks is a company in the Software Defined Network (SDN) area with a clear declared mission: to bring network innovation to a broader audience, by delivering fit-for-purpose products based on hyperscale networking technologies.
Big Cloud Fabric (BCF) is an SDN-based data center network switching fabric, moving from a traditional centralized chassis (composed by a supervisor, some fabric cards and some line cards) to a centralized control plane (the big cloud controllers, that acts as the switch supervisor) and a data plane based on a leaf-spine based fabric (where the spines are like the fabric cards and the leafs are similar to the line cards).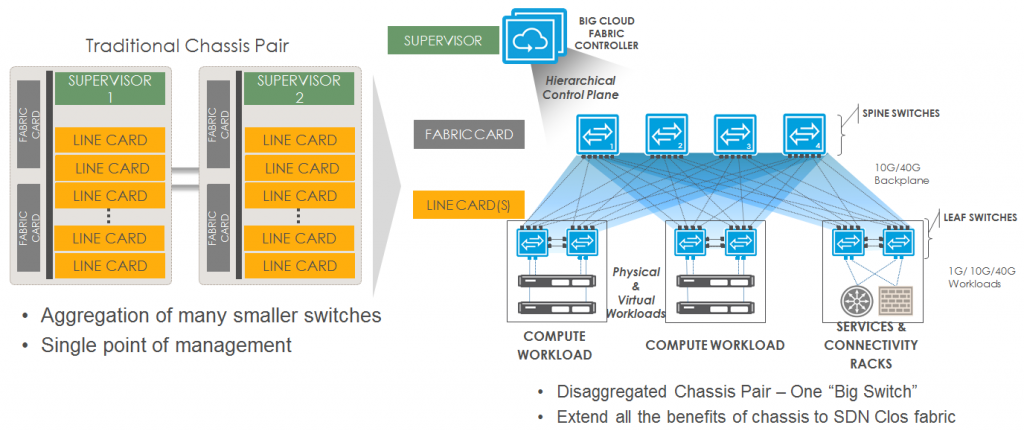 In HCI environments, BCF meets the unique requirements imposed by HCI architecture, enabling networks to operate at the speed of HCI. Specifically, for Nutanix and VSAN environments, BCF provides:
High east-west traffic across the server/storage nodes with its high-performance 10G/25G/40G/100G scale-out fabric.
Scale-out fabric to incrementally provision additional nodes of capacity and performance as the application demands increase.
Automated network provisioning of HCI hosts and VMs, which removes bottlenecks typically experienced with proprietary network designs that are manual, switch-by-switch architectures, based on traditional CLI commands, which impede the desired software-based agility of modern data center operations.
HCI-related visibility for network admins to simplify capacity planning, change management and enables rapid troubleshooting.
BCF is validated Nutanix Ready Core for networking and a member of the Nutanix technology alliance partner program, Nutanix Elevate. Validated solution components consist of Big Cloud Fabric, Nutanix Enterprise Cloud OS, and VMware vSphere.
Note that actually BCF with Nutanix has a complete set of features with the vSphere hypervisors, but it also supports AHV platform… with fewer features.
And BCF can be used also with Dell EMC ScaleIO solution: combined with the hyperscale-inspired Big Cloud Fabric, which has built-in integrations for VMware, benefits experienced with ScaleIO, such as cost-savings and operational efficiencies are extended to the physical network layers. ScaleIO and Big Cloud Fabric together deliver a flexible, scalable, high-performance solution.
Big Switch and Dell EMC have built a validated reference architecture for a VMware SDDC, based on the following solutions components:
Big Cloud Fabric
ScaleIO
VMware vSphere
Dell EMC Open Networking Hardware
But with the HCI may need a good network component? Considering that in some cases (for example in Nutanix) you may already have network visibility or also some part of network integration…
For HCI, part of the network it's the backbone of the storage, used to provide heartbeat, control traffic, but also data traffic for replication or data access (it's like the back-end of a traditional storage). But in most cases it's not a dedicated physical network, it's a shared network the access part (the front-end part of a traditional storage). And in most cases, it's also shared with other networks (at least at physical switches level).
For this reason, have a single logical network, provide QoS, bandwidth control and reservation (and limit), but also network flow optimization could be mandatory to ensure the best for the HCI environment, both for the storage part and the VM part!
But we have also to consider the troubleshooting aspects where a good network could really simplify this activity.
To learn more, join Big Switch and SDxCentral on Thursday February 15th at 10am PST for the webinar, Leveraging Next-Gen Networking to Unlock the Power of HCI. To register: http://bit.ly/2DzfyHJ