This post is also available in: Italian
Reading Time:
7
minutes
Converged infrastructure operates by grouping multiple information technology (IT) components into a single, optimized computing package. Components of a converged infrastructure may include servers, data storage devices, networking equipment and software for IT infrastructure management, automation, and orchestration.
Using converged systems is a way to use a building block approach for the IT infrastructure: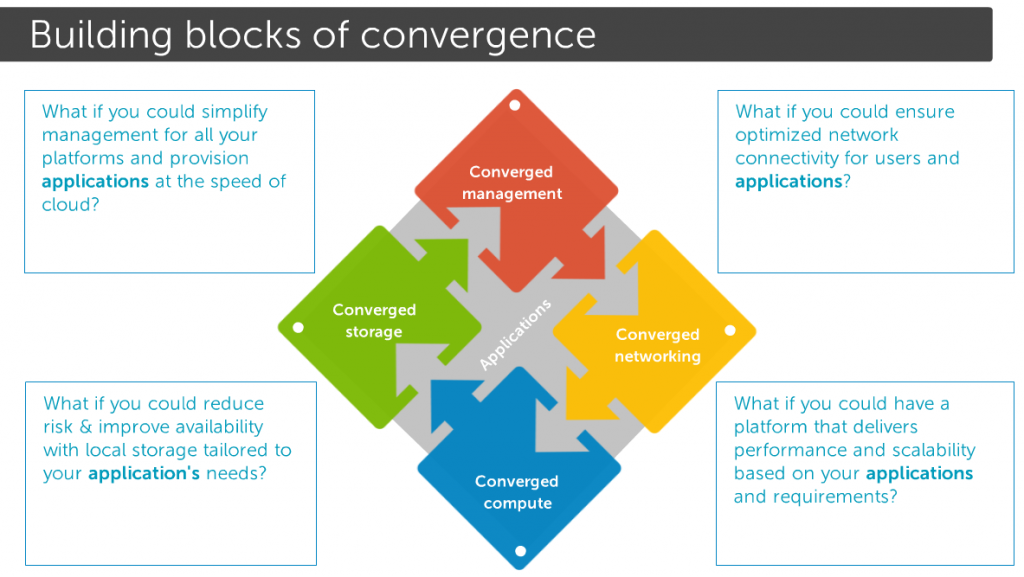 In most cases, we call converged systems in a different way: blade systems, modular systems, block, rack, …. But the idea remains the same.
And also if hyper-converged systems become more popular, converged systems stay relevant and are used in different cases.
For several years Dell has built its converged solution around the Dell PowerEdge M1000e, probably Dell's chassis with the longest lifecycle (has been introduced with Generation 10 of PowerEdge). Then other interesting converged and modular solutions have been introduced: first the Dell PowerEdge VRTX and then the Dell PowerEdge FX platform.
Now Dell EMC has launched the replacement for the M1000e, the Dell EMC PowerEdge MX, a new high performance, modular infrastructure, designed to support a wide variety of traditional and emerging data center workloads. The product was announced during the Dell Technologies World 2018, but now finally there are more details about it.
PowerEdge MX offers the first modular infrastructure architecture designed to easily adapt to future technologies and server disaggregation with its unique kinetic infrastructure. Kinetic infrastructure is a term we are introducing that defines true composability. It brings the benefits of a modular design but extends the flexibility of configuration down to the individual storage device and, in the future, all the way to memory-centric devices (DRAM, storage class memory, GPUs, FPGAs…). A kinetic infrastructure enables the ability to assign the right resources for the right workload and to change dynamically as business needs change.
The PowerEdge MX is taking the same experience and model of the FX architecture and designed for the software-defined data center—able to support a combination of dense virtualization, software-defined storage, software-defined networking, artificial intelligence and big data projects. Designed to support the latest low latency NVMe drives and native 25GbE connectivity, customers can tailor compute and storage configurations to their own requirements and benefit from shared pools of disaggregated resources to respond to changing needs as they happen. By creating on-the-fly hardware capacity, overprovisioning and stranded assets are reduced as performance and efficiency are optimized.
The different elements of a PowerEdge MX infrastructure are:
Dell EMC PowerEdge MX7000 chassis – Offers an efficient hardware foundation with support for multiple server processor generations, in a scalable system with end-to-end lifecycle management and a single interface for all components, enabling organizations to focus more on their business priorities than IT maintenance. This 7U chassis includes eight bays to accommodate a variety of single- and double-width compute and storage combinations.
The entire system is optimized for the power consumptions and also for the airflow and thermal impact.

Dell EMC PowerEdge MX Ethernet and Fibre Channel switching modules – These new low latency, high-bandwidth switching modules for multi-chassis environments include automated processes for topology compliance, quality of service and autonomous healing for peak network performance with the PowerEdge MX single management interface. PowerEdge MX is the industry's first modular infrastructure to deliver end-to-end 25Gpbs Ethernet (GbE) and 32Gbps Fibre Channel host connectivity. Combined with 100GbE and 32G Fibre Channel uplinks, customers can expect up to a 55% reduction in switching latency for highly-scalable, multi-chassis fabric architectures.

Dell EMC PowerEdge MX740c and MX840c compute sleds – Two- and four-socket blade sleds deliver full-featured, no compromise compute, with exceptional performance and a rich set of storage options including NVMe drives. The single-width MX740c and double-width MX840c support the full Intel® Xeon Scalable Processor family with up to six terabytes of memory. The MX740c is the industry's only single-width, two-socket, modular server that can house and tier up to six 2.5" NVMe, SAS or SATA drives. The MX840c can hold up to and tier eight drives.

Dell EMC PowerEdge MX5016s storage sled – Dense, full-width, scale-out storage sleds complement MX servers, holding up to 16 hot-pluggable SAS storage hard disk drives, with a maximum of seven MX5016s sleds in the MX chassis for up to 112 drives of direct-attached storage. These drives can be individually mapped to one or more servers, offering the ideal storage ratio needed for specific use cases.

"This is an infrastructure-management tool that utilizes industry standard APIs to plug into other consoles that customers use to manage other IT infrastructure, whether that's in an emerging DevOps world using Redfish commands, or more traditional tools that exist in a data-center environment such as Microsoft System Center or VMware vCenter," said Brian Payne, vice president, product management and marketing, for Dell EMC PowerEdge.
So DellEMC continue to expand and extend Redfish support for DellEMC PowerEdge and the new MX it's included in this vision of cross-managebility.
PowerEdge MX, with its kinetic infrastructure, is uniquely designed without a mid-plane, enabling support for multiple generations of technology releases—processor technologies, new storage types and new connectivity innovations—well into the future. Specifically, the absence of a mid-plane enables direct compute to I/O module connections, allowing for future technology upgrades without disrupting customer operations and without a mid-plane upgrade. With this approach, PowerEdge MX is prepared to one day support fully disaggregated components, down to memory-centric devices, such as storage class memory, GPUs and FPGAs, to offer customers full composability.
This is the promise, but of course, the reality could be different. Will the PowerEdge MX repeat the success of the PowerEdge M1000e? Or customers will just prefer the consolidated FX solution?
The M1000e has still some unique features like the high density: up to 32 servers in a single 10U chassis! The new MX is smaller (7U vs. 10U) but does not have the same density. Also, the fabrics are little different, but a big pro of the MX is that it can have also storage node (with M1000e was possible using a specific blade Equallogic).
The FX platform remains smaller (not necessary denser) and flexible, but has a big limit: one single redundant fabric (plus the PCI-e expansions)…
So the MX platform can have some great opportunities in the market, but will be interesting to see how it will be really flexible with new possible future technology changes (like NVMe over fabric).
Could be also nice to have flexible sleds that can be hosted on MX or in a new version for the FX modular system, to permit a better investment protection.
Dell EMC PowerEdge MX will be available globally beginning Sept. 12.
See also: