This post is also available in: Italian
Reading Time:
4
minutes
Some months ago Dell announced a new server architecture that combines characteristics of both rack servers and blade servers into a new architecture: this new converged architecture is called PowerEdge FX.
This was not the first that combine both rack and blade server concept in a single architecture: first Dell product to do this was the Dell PowerEdge VRTX (it also combine the tower form factor).
But the FX is something different: this platform was not designed to replace Dell's blade server portfolio, it's designed for better density and scalability compared to the M1000e blade system. It's like the comparison between the PowerEdge rack series and the PowerEdge-C cloud series… In my opinion, the FX is mostly a modular version of the PowerEdge C series.

The base of the architecture is the 2U chassis (called FX2) designed to hold in the front "modules" or "blocks" called sled.


There are two versions of the FX2 chassis:
"switched" configuration, PowerEdge FX2s, that supports in the rear up to 8 low-profile PCIe 3.0 expansion slots
"unswitched" configuration, PowerEdge FX2 a lower-cost alternative that does not offer expansion slots
All chassis have also a management controller (similar CMC of the Dell M1000e or VRTX systems), redundant power supplies (hot-plug PSUs: 1600W or 1100W AC in 1+1 redundant or 2+0 non-redundant configurations) and two I/O modules.
I/O modules could be pass-through modules or a choice of three different networking FN I/O Aggregator modules:
Dell PowerEdge FN410S: 4 ports SFP+
Dell PowerEdge FN410T:

 

4 ports 10Gb Base-T
Dell PowerEdge FN2210S: Either 2 ports 2/4/8G Fibre Channel (NPG mode) and 2 ports of SFP+ or 4 ports of SFP+
Compared to the M1000e where there are three different redoundant fabric, in this case the I/O options are limited.
In the front it's possible add server blocks all powered by the latest Intel® Xeon® processors. Actually the available models are:
FC430:

 

quarter-width 1U

server dual Intel Xeon E5-2600 v3 CPUs (up to 14 cores), up to 8 Memory DIMMs, 2 x 1.8″ SSD drives (1 with optional front InfiniBand Mezz model)
FC630: half-width 1U server with dual Intel Xeon E5-2600 v3 capable server with up to 24 DDR4 DIMM slots with up to 8 x 1.8″ SSD drives (2 x 2.5″ drive option also available)
FC830 (coming soon):

 

full-width 1U server with

4-socket, block for mid-size and enterprise data centers
FM120x4:

h

alf-width 1U sled housing up to four separate Intel® Atom® powered single-socket microservers offers up to 16 microservers per 2U FX2 chassis
Other server blocks will be added in the future. As you can notice the naming of the servers remain the same of other products with the first letter(s) that define the form factor (in this case, for the FX architecture FC or FM).


And like the other converged chassis, also in this case there is a storage module: the PowerEdge FD332 is a half-width flexible disk sled that will allow up to 16 x 2.5″ hot-plug drives (12Gbs SAS) to be connected to one or two servers via dual on-board PERC9 RAID Controllers (so really similar on what can be do with VRTX).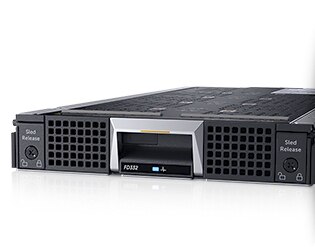 There are several videos that explain this architecture, but one of the most clear and interesting is the one from Tech Field Day (VFD4):
Dell PowerEdge FX Architecture
For more information see also: